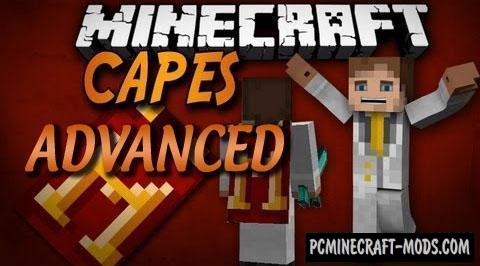 Advanced Capes 1.17-1.16.5 – a great customization mod that will allow you to equip a cape on your character. This adds a user-friendly graphical interface for changing the pattern or color of a custom cape. Click C to change the skin, enter the link to the new skin, and click "Set URL".

This is a very quick way to customize your character, because you no longer need to spend a lot of time searching for folders with textures.
As for the Fabric option, it suggests using capes from the Optifine, LabyMod, and the MinecraftCapes modifications. It is also a client side addon, so your customization will be seen by other players on multiplayer servers. More flexible settings can be found in the configuration screen.
Screenshots
How to install Advanced Capes
Download and install Forge or Fabric Loader, Fabric API with Kotlin API (Contained inside the archive)
Download a mod
Unzip it and copy to C:\Users\User_Name\AppData\ Roaming\.minecraft\mods
Ready
Created by: VictorKohler, CafeteriaGuild