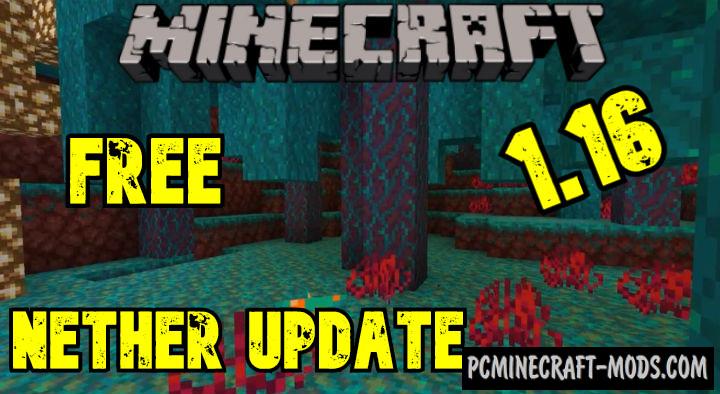 Minecraft v1.16.5 is a huge add-on called Nether Update that is available for download on the Java Edition (PC) and Bedrock Edtion – Pocket Edition (Android, Windows 10, iOS) platforms. Now the game contains more Nether World content that will appeal to many fans.
Mojang developers have not forgotten about optimizing the game's core and improving default vanilla textures. Minecraft 1.16 is considered to be one of the coolest updates in the last 10 years, so try exploring new resources, mobs, and changed gameplay to make your survival more interesting.
Now in Nether World, the player can find 4 new biomes (Basalt Deltas, Crimson Forest, Soulsand Valley and Warped Forest), and 4 local mobs (Hoglins, Piglins, Striders and Zoglins), as well as a unique Netherite ore that can enhance your diamond items. Additionally, various random structures with treasures were added (Ruined portals and bastion remnants), as well as the developers improved the functionality for vanilla tools and added the generation of several cheap ores in different worlds.
All the new content is focused on getting players to spend more time in Nether World, so you will have a new branch of achievements, more sources of food and water, balanced hostile and friendly mobs, and about 500 fixes that may negatively affect compatibility with the 1.16 update.
Release Date: January 15, 2020
Latest Version: 1.16.5 Full, MCPE: 1.16.234 Beta, 1.16.221 Full Version
Created by: Mojang, Microsoft
Minecraft 1.16 Features
Soulsand Valley Biome – This biome consists of a soulsand, it is filled with blue fog and everywhere are the blue lights. If you need bone blocks, here you can find the skeletons of ancient creatures

Netherwart Forest Red Biome – the plants are very red and strange. Little is known about this biome, but it is a kind of jungle with a huge variety of trees, bushes and mushrooms

Netherwart Forest Blue Biome – this biome is an alternative to the red Forest, but with its own unique blocks. It is also a place where you can relax from the solid red shade in Nether World. Perhaps there will be friendly settlements

Piglin Beast Mob – as you can imagine the new biomes without a new mobs? You can use this mob for the production of food, but don't think that he is friendly

Piglin Mob – always looking for gold, but if you wear a golden armor, they will ignore you. The Piglins will guard the chest, which are various jewels. If you try to steal from them, they will hunt you down. With the Piglins you can trade, but don't think it will be the same as trading with the friendly villagers
New Target Block – this block is designed specifically for arrows. After being hit, it activates the red stone. Hitting the center produces a strong signal and weak if you hit further from the center of the block
Minecraft 1.16 Changes
Added a new Soulsand Valley Biome
Added the Netherwart Forest Red Biome
Added a new Biome – the Netherwart Forest Blue
Now in Nether World you can find a Piglin Beast mob
Added new the Piglin mob
Now you can use the Target redstone block
Add the Blue fire
New type of grass – Nether grass
Added new Nether mushrooms
Now in the Nether will be generated a Red and Blue trees
A new type of soul sand block
Added beautiful stalactite blocks which looks like icicle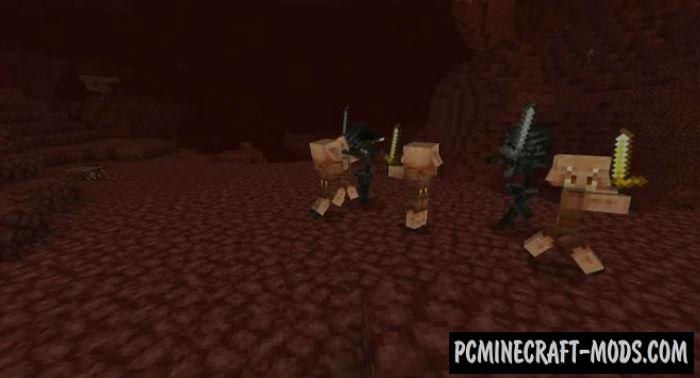 Minecraft 1.16 Download
Direct Links: