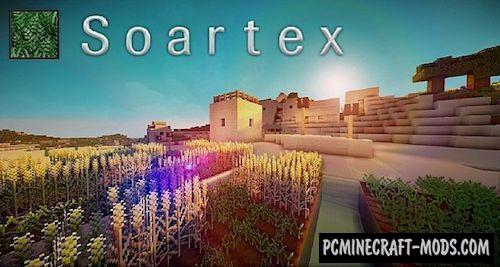 Soartex Fanver 1.17.1-1.16.5 has earned its popularity due to its artistic style, attention to detail and comic elements. It also contains some themes compatible with more than eight dozen popular mods.

This means that most of the blocks from the additional modifications will get a single texture style, and it will be very beautiful when mixed with vanilla blocks. All these 64×64 textures will elegantly decorate your world, because its author has done a lot of work to make the pack better and with good detail.
This is mainly used as an alternative to vanilla options, but there are separate categories of blocks with their own themes, for example, players can use these blocks to build a modern mansion or even an entire city. Other block themes are used in rural areas or towns to recreate the medieval atmosphere, so you can disguise the house with a modern design inside by using medieval materials outside.
In addition, you should pay attention to the environment because the author made it as realistic as possible, for example, plants received a lot of detail that allows you to draw foliage, stems and flowers close to realistic. This can be used as an additional decoration outside the house or for example to build a park. There are also realistic day and night skies, along with detailed textures that create a certain atmosphere of realism in any place and biome.
Screenshots
How to install Soartex Fanver Resource Pack
Install Optifine HD (Not necessary but desirable)
Download a Resource Pack
Unzip it and copy to C:\Users\User_Name\AppData\Roaming\.minecraft\resourcepacks
In the game settings, select the desired resource pack
Ready
Created by Shoeboxam, Goldbattle, Artdude543, Leagris and Soartex