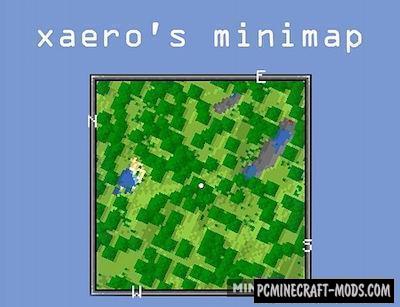 Xaero's Minimap 1.16.5-1.12.2 is a small modification that adds a beautiful mini-map with yellow dots denoting mobs, white dots denoting players and red dots will show the items location. Now you will be easier to see mobs and at what distance from you they are. This will make it a little easier to survive, because this is a small hack showing a lot more information.

Updated to version 21.4.2, added Fabric option
Features
The ability to customize the size of the map, as well as the function of automatically increasing or decreasing the size depending on the selected monitor resolution in the settings
Multiple zoom size options
You can make the HUD round or square
Ability to move the mini-map to the desired position on the screen. The shift pitch is 1 pixel, so it is perfectly compatible with other HUD modifications
There is a feature for selecting the colors of objects, for example, the "Vanilla" mode colors this depending on the biomes, or the "Precise" mode shows the exact textures of the blocks
There is a whole settings menu where you can configure temporary automatic actions, such as automatic zoom, increasing the map size, hidden simple blocks when more precious ones are detected, etc
Setting up intermediate points, building routes, monitoring the distance traveled, and much more.
Screenshots
How to install Xaero's Minimap
Download mod
Unzip it and copy to C:\Users\User_Name\AppData\ Roaming\.minecraft\mods
Ready
Credits
Created by: xaero96 (Official Download Page)
Downloads