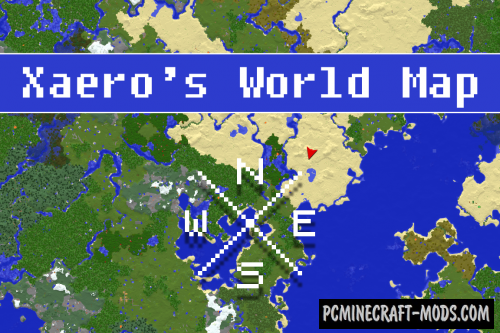 Xaero's with World Minimap 1.16.5-1.12.2 mod is a one of the most popular and advanced mini maps, which has the full screen option. The map can be opened by pressing "M" and suitable for long travel in Minecraft.

If you don't like the minimap interface, you can install an alternative extended version of
Xaero's small minimap
. This combines both mods and will work in all game modes (survival and multiplayer mode).
Updated to version 1.12.2, added Fabric option
Features
To better understand this, you can draw objects or reminders on the map yourself. This works separately for each of the worlds
You can use this for both single player and multiplayer or Realms
The author tried to place the GUI items in such a way that the player could quickly get used to the functionality and use a wide range of tools
It also has zoom features that allow the player to move the camera over the map as well as zoom in or zoom out which will greatly speed up the process of determining and quickly planning a further route
While using custom textures, your minimap will also update the 2D colors of the blocks, so it will be easier to recognize the blocks
Activate the "Steps" mode to see the completed route. This will not let you get confused or get lost
If you lose performance, you can activate the "Increased Performance" mode to disable heavy functions
This works with a lot of PvP modifications, for example, you can use teleports without going out of the GUI.
Screenshots
How to install Xaero's World Map
Download mod
Unzip it and copy to C:\Users\User_Name\AppData\ Roaming\.minecraft\mods
Ready
Credits
Created by: xaero96 (Official Download Page)
Downloads