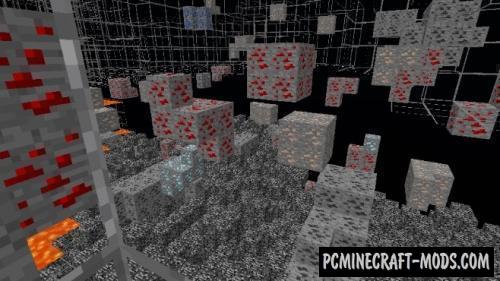 Minecraft is full of different resources but the most valuable there are in the underground. To search for rare resources was created the Xray Ultimate Hacked 1.17-1.16.5 Resource Pack. This texture pack does all the usual texture transparent, visible remains only the rare ores.

Now You don't have to spend hours in the mine to search of diamonds, enough for 30 minutes. This modification will greatly facilitate the lives of many players.
Resource Pack has been updated to 1.16.5 version
Screenshots
How to Use?
Use "X" button to activate the hack. Check in the controller settings if there is any action on this button otherwise there will be a conflict and Xray is not activated on this button
You should not use the mod loaders such as "Forge, Rift and Fabric" in conjunction with the Xray. This creates a conflict in the core of the hack code
When you open the GUI there is a possibility of a lag hack and you will need to restart it using the "X" button, also the lag can be deep and you will need to restart the game if you do not see the blocks.

How to install Xray Ultimate
Install Optifine HD (Hacked Mod version)
Extract the "OptiFine_1.16.5_HD.jar" from downloaded zip archive
Download the Xray Resource Pack
Run Optifine & "Extract" the "Optifine_1.16_Mod.jar"
Extract the "xray-72-1165.jar" from downloaded zip archive
Open MultiMC & select your Xray instance
Click on [Edit Instance]
Click on [Add to Minecraft.jar]
Select the 'MOD.jar' file