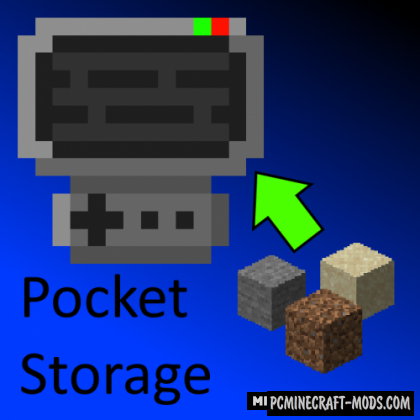 Pocket Storage 1.16.5-1.15.2 – is a very interesting modification containing portable storage for you, which will allow you to get rid of the problem of constantly filling the inventory with the same items, because it has the feature of storing up to 100 thousand of the same type of items in one slot.

The storage has four levels, they will differ in the number of available cells and the possible number of items for each of them! Use this to significantly speed up the collection and transfer of items if you have huge farms or technology mods.
Updated to 0.7.6 version
Features
Level 1: 8 slots, 255 items per slot.
Level 2: 16 slots, 4095 items per slot.
Level 3: 32 slots, 65535 items per slot.
Level 4: 64 slots, 1048575 items per slot.
Screenshots
How to install Pocket Storage
Download and install Forge
Download a Mod
Unzip it and copy to C:\Users\User_Name\AppData\ Roaming\.minecraft\mods
Ready
Created by: Flanks255