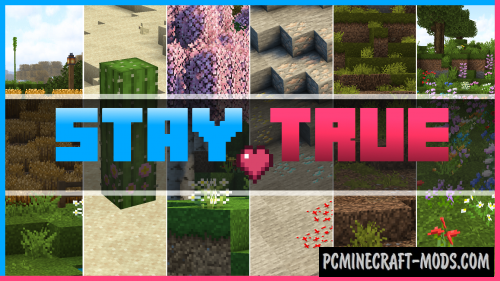 Here is a unique and very thoughtful Stay True 1.16.5-1.16.4 resource pack that will process almost all vanilla textures, making them as harmonious, pleasant and very connected as possible. These changes are not global, but they complement the game as much as possible, eliminate repetitive textures and make it more realistic!

This is an ingenious alternative option that was created to accommodate hundreds of additional 3D particles as well as complete changes to the surface of blocks, vegetation and decorative objects. The author tried to redraw random structures and blocks crafted by the player in such a way that it stands out against the background of biomes, default generated blocks, and other simple things. This is perfectly noticeable for vegetation because it now has brighter colors, new petal shapes and a 3D model.
Additionally, you should pay attention to bookshelves that fit more elegantly into the home interior and also create a cozy atmosphere somewhere near the fireplace or in random structures. Cobblestone blocks can now be used as additional decorative inserts during the construction of castle walls, something like hand-laid stone. Blocks of soil and sand now blend perfectly with the surrounding blocks of grass, allowing the player to create decorative trails or even entire medieval roads. You can also notice how the cactus blooms, because a small script has been added that adds flowers to a random cactus. This contains a lot of other small additions that you will have to see for yourself.
Screenshots
How to install Stay True
Install Optifine HD
Download Resource Pack
Unzip it and copy to C:\Users\User_Name\AppData\Roaming\.minecraft\resourcepacks
In the game settings, select the desired resource pack
Ready
Credits
Created by: TrrigST (Official download page)
Downloads