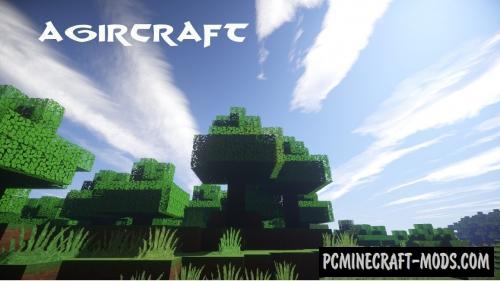 AgirCraft 1.16.5-1.16.4 is a pretty beautiful 64×64 texture for Minecraft that combines 3 styles at once, such as cartoonishness, simplification, and realism – all styles depend on the location and biomes. Each block has a beautiful view on the background of other blocks only in the native places of generation.
Most of all, new blocks of earth's soil and grass stand out here. You may also notice that the sky, tree leaves, and wood are now more saturated with colors, and this complements each biome well, making it more alive. Try this small texture to flip your game world and change simple vanilla screenshots.
As you know, the author decided not to create different resolutions for this pack, but he created a whole series of works (HileCraft, Classical Reborn and Oxys realistic pack) that differ in resolution and a slightly different style, and of all his works, AgirCraft is one of the best creations.
Screenshots
How to install AgirCraft
Install Optifine HD (Not necessary but desirable)
Download Resource Pack
Unzip it and copy to C:\Users\User_Name\AppData\Roaming\.minecraft\resourcepacks
In the game settings, select the desired resource pack
Ready
Created by Temy