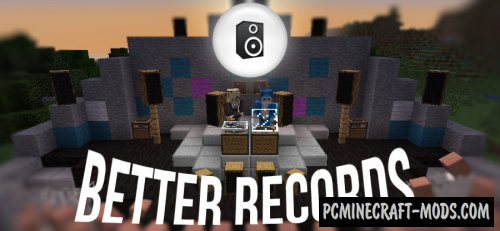 Better Records 1.12.2 is a unique modification for your minecraft because it will allow you to download all your favorite songs to the game online directly from the Internet and add a lot of interesting mechanisms for playing it. Now you can have a great party inside your home or recreate a real concert with your favorite band.

Mod updated to version 1.6.2
Features
Record Etcher – used for mp3, wav or ogg playback. You need to specify the full link from the web resources
Record Player – can play your custom sounds that you have uploaded to the game. Use Shift +RMB to open or close, RMB with an etched record to put it in, RMB again to take the record out
Frequency Crystal – used for playing radio
Radio – you can use your station inside the game to let other players set up receivers and listen to your music. Shift +RMB Click with an empty hand to open or close it; RMB with an tuned crystal to put it in; RMB again to take the crystal out
Speaker – it has different sizes so that players can hear music at large or small distances. It can be connected to a Record Player or Radio with Wires
The laser is used inside clubs because it creates a lot of colored laser beams.
Screenshots
How to install Better Records Mod
Download and install Minecraft Forge
Download mod
For 1.10.2 and above: install Forgelin
Unzip it and copy to C:\Users\User_Name\AppData\ Roaming\.minecraft\mods
Ready