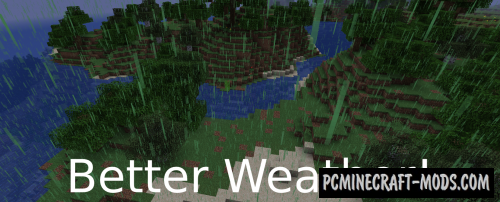 Better Weather 1.16.5-1.16.4 contains many natural phenomena that are very rare in the real world. This weather can sometimes play a cruel joke with the player because now in your world will fall toxic green rain, and blizzard will reduce the range of visibility and snow all around.

In addition, it contains a huge set of custom sounds that fill the gameplay with a new atmosphere. In the future, the author promises to add snowstorms, sandstorms, hail, and various other events.
Updated to 1.2.1 version
Commands
To test all the features of the new weather you can use special commands:
/betterweather acidrain – toxic rain has the feature to poison all living creatures and trees
/betterweather blizzard – this slows down the player's movement and also creates almost zero visibility due to concentrated snow and moving fog
/betterweather clear – this command will quickly clear any weather.
Screenshots
How to install Better Weather
Download a Mod
Unzip it and copy to C:\Users\User_Name\AppData\ Roaming\.minecraft\mods
Ready
Created by: Corgi_Taco