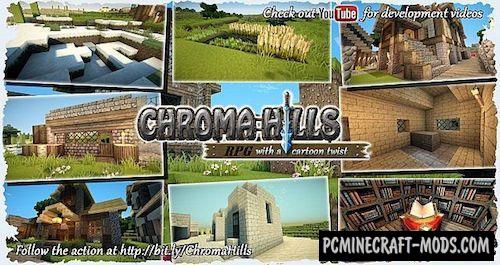 Chroma Hills RPG 1.15.2-1.14.4 is a resource pack with high resolution of 128×128 pixels that combines cartoon and RPG style. This is created in the medieval style and contains cool blocks with items of old medieval themes. You should definitely pay attention to the graphical interface and mobs (This has very serious changes for the better).

First of all, the author added a lot of elements for building blocks and for those things that are very often used by the player. Wood building materials have several uses at once, for example it colors different biomes and you can use this to build a classic house in a new wrapper. All types of wood blocks have received darker tones so that your cities or individual buildings have notes of the middle ages, additionally this will appeal to all fans of RPG adventures.
Everything that concerns iron things, such as trolleys, rails, iron doors and other things have unique elements that emphasize their iron origin. On the surface of such game items, you can notice metal rivets, a little rust, and updated sounds while interacting with these items.
Most mobs received realistic facial textures, because the huge 128×128 resolution allows you to add a lot of stylistic details. With the Chroma Hills RPG some of the mobs have sad faces, but most of the monsters from Nether World can smile to emphasize their insanity and desire to kill the player. Additionally, the textures of mobs ' bodies have updated clothing or other custom elements that are not available in the vanilla version of the game.
The player's graphical interface is drawn in a slightly simplified style, but the author has made the most important parts of the interface more detailed for a medieval theme. A more transparent and simple interface style will make your gameplay a little more enjoyable and you will be able to enjoy even more 3D objects.
The author releases various Addons that are intended for use in conjunction with Optifine HD. These Addons make it possible for the player to get realistic 3D textures for blocks or weapons with armor. You can only get this after the full Optifine release for your version of the game.
Screenshots
How to install Chroma Hills RPG
Install Optifine HD (Not necessary but desirable)
Download Resource Pack
Unzip it and copy to C:\Users\User_Name\AppData\Roaming\.minecraft\resourcepacks
In the game settings, select the desired resource pack
Ready