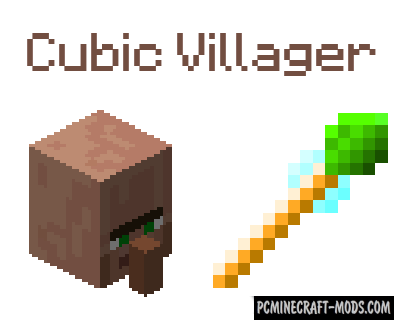 Cubic Villager 1.16.5-1.12.2 modification is designed to add a wand into your game that will turn villagers into a fairly useful block that you can use together with pipes from the BuildCraft!

Basically it has minor changes for normal survival, but it has many features that will be useful when used in conjunction with
BuildCraft
. For example, there are a lot of modified vanilla mechanics with villagers and some additional tweaks.
Some Feature
To start, the player will need to craft a magic wand.
Apply this to a villager to get a unique village block.
Melt it down to get a vacant village block or craft a vacant village block with xp bottle to get back a villager block.
Next, build something like a Golem, but use the emerald blocks and villager block on top.
There will be a new villager, using a magic wand on it, you can get unique information about secret crafts
Screenshots
Review
How to install Cubic Villager
Download and install Forge
Download a Mod
Unzip it and copy to C:\Users\User_Name\AppData\ Roaming\.minecraft\mods
Ready
Created by: a1lic