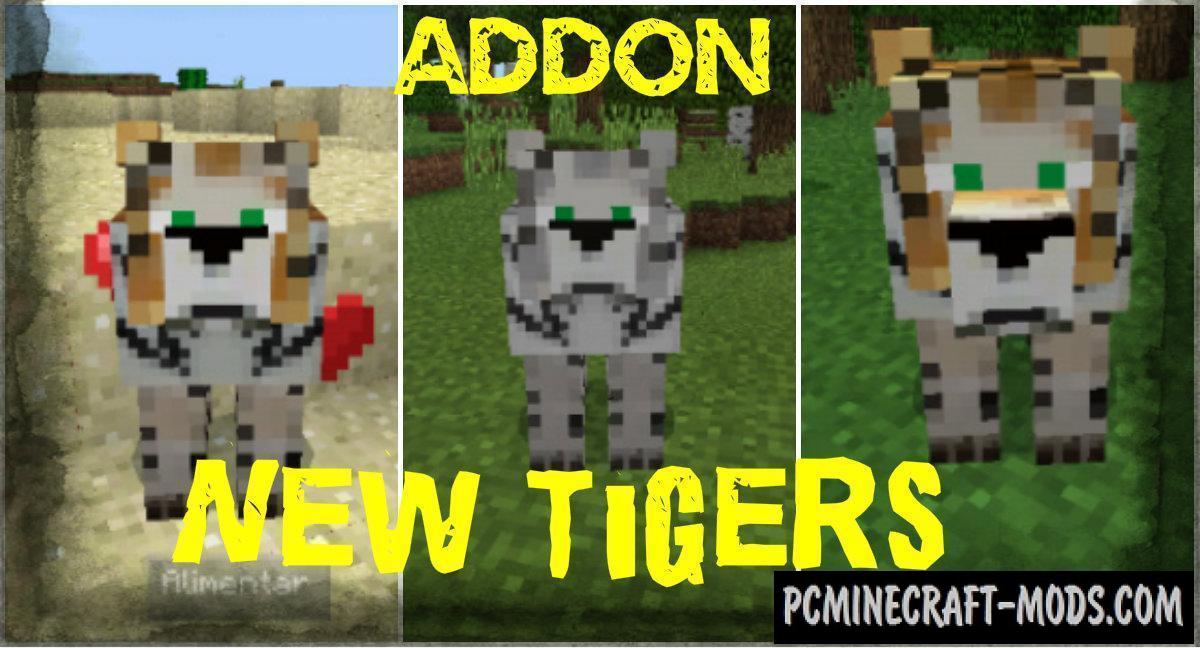 New Tigers Addon 1.8 is a mod that will add a few new tigers to Minecraft Bedrock Edition. We present to your attention an African yellow tiger and a Polar white tiger.
Now your world of survival will be a little more difficult, but more diverse. New mobs-it's always good, because they can be tamed and used for useful purposes. Tigers are able to survive on their own without your intervention, because the new add-on functionality allows it in Minecraft 1.8.
Tigers Features
Each tiger has the ability to self-generate in the biomes. You can also spawn them with eggs in your creative inventory
Yellow and white tigers can be tamed using cooked meat
Tiger has a behavior similar to dogs and can perform the same function.
Tigers Stats
Use tamed mobs is very profitable, because their strength will grow significantly and they will be great defenders for you and your home.
Wild Tiger:
Health: 45
Attack damage: 5
hey eat raw meat.
Tamed Tiger:
Health: 70
Attack damage: 9
They eat raw meat.
How To Install Addon?
Download a mod with the extension .mcaddon
Then find it and run, thus importing into the game
Open the game and go to the settings of the world
In the "Resource Packs" and "Behavior Packs", select the imported resource packages (addon)
Enable "Experimental Gameplay"