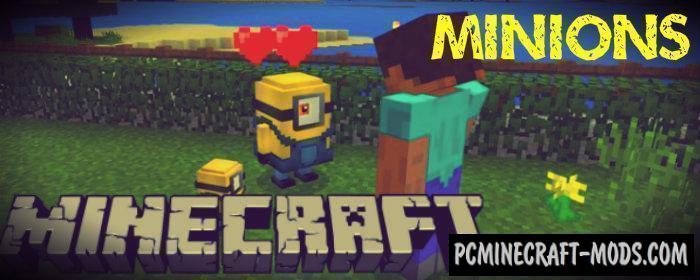 Minions are yellow, small, cylindrical creatures that are known from the cartoon called Minions. The mod has features to add these adorable yellow creatures that you can tame and give them various tasks.

Minions can be found in the Nether world. You can also use a zombie pig spawn egg to quickly create a minion. Only an adult minion can be tamed. To do this, feed him a banana so that he loves You. Probability of capture = 33%. If you find a little minion, then feed him a banana to speed up the process of his growth.
Features
Hold special items in your hand so that they do a certain job for you:
Sword = to hunt animals
Axe = to cut down trees
Pickaxe = mining
Hoe = harvest
Shovel = dig
Fishing rod = fishing
Screenshots
How To Install Mod?
Download a mod with the extension .mcaddon
Then find it and run, thus importing into the game
Open the game and go to the settings of the world
In the "Resource Packs" and "Behavior Packs", select the imported resource packages (addon)