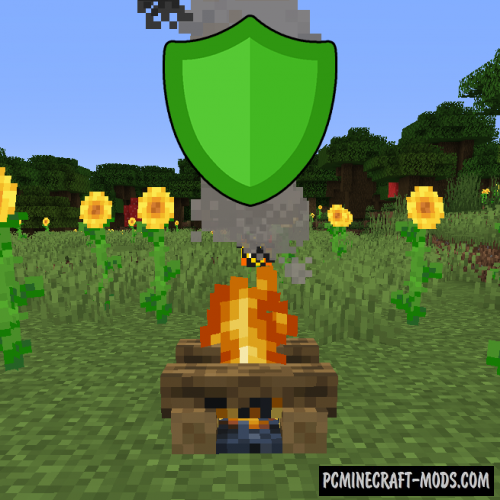 With the No Hostiles Around Campfire 1.16.5-1.16.4 modification, hostile mobs will no longer spawn around the campfire. You can set the range of this function yourself (by default: 48 blocks, minimum 1, maximum 128). As soon as mobs enter this radius, they will start receiving fire damage for half a minute. After this time, the fire will go out.

This is a very useful tweak that has many realistic features that relate to survival in the wild. In total, there are 3 parameters that the player can customize, for example:
burnHostilesAroundWhenPlaced – enables or disables burning mobs inside the radius
burnHostilesRadiusModifier – changes the damage priority (the closer the mobs are to the fire, the more priority they will be)
preventMobSpawnerSpawns – disables the ability to generate mobs from spawners inside the radius.
Updated to 3.0 version
How to install No Hostiles Around Campfire
Download and install Forge
Install Collective
Download a Mod
Unzip it and copy to C:\Users\User_Name\AppData\ Roaming\.minecraft\mods
Ready
Created by: Serilum
Official Link:

Direct Links: