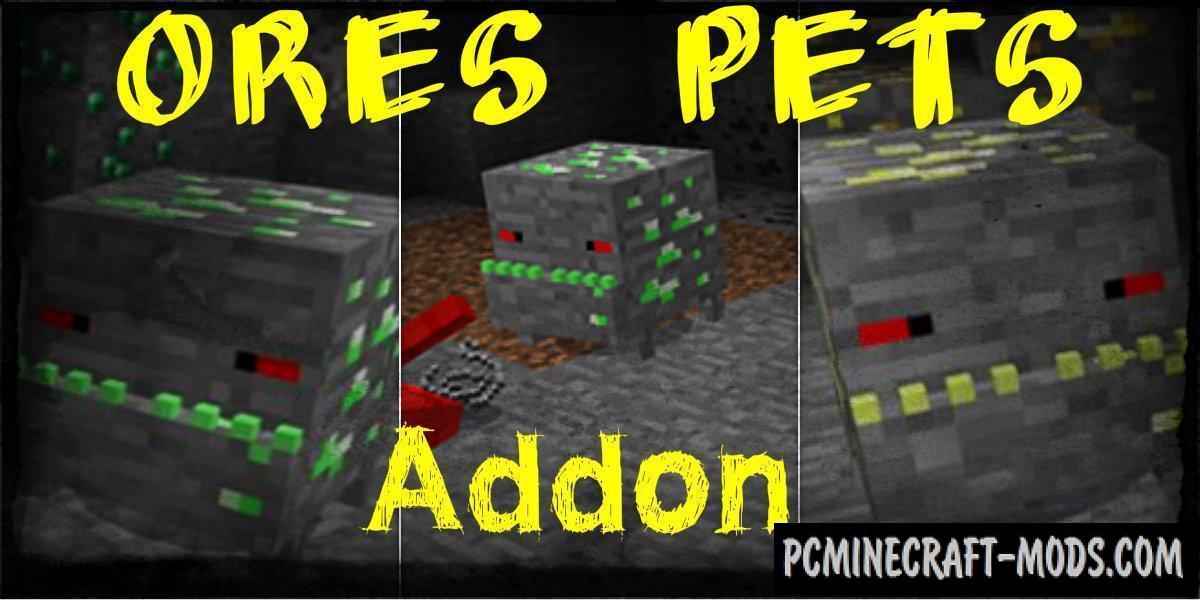 Now dungeons and caves in Minecraft 1.8 will be inhabited by new Mineral Monsters. They perform only one function – to protect the precious ores.
Addon will add several varieties of these monsters. In the future, the list will be expanded. Currently there are 5 different Ore Pets, such as diamond, emerald, gold, etc. Each Has its own strength and texture.
Addon Features
This mob has the ability to generate in a certain area, because since Minecraft 1.8.0.8 Addons significantly expanded its functionality
Ore Pets have non-standard shapes and textures that are very similar to regular blocks. They are easily confused with blocks of ores, but their red eyes impersonate the enemy
New mobs perfectly diversify the existing monsters from dungeons and caves. Even if you find precious diamonds, you have to fight with the defender of precious ores
Can be tamed. Use diamonds or other appropriate minerals to feed Ore Pet. He will follow you and defend against enemies.
Ores Pets Stats
Each monster has the same life reserve, but has a different attack power:
Diamond – 7 damage
Emerald – 6 damage
Gold – 3 damage
Iron – 6 damage
Redstone – 4 damage
How To Install Addon?
Download a mod with the extension .mcaddon
Then find it and run, thus importing into the game
Open the game and go to the settings of the world
In the "Resource Packs" and "Behavior Packs", select the imported resource packages (addon)
Enable "Experimental Gameplay"