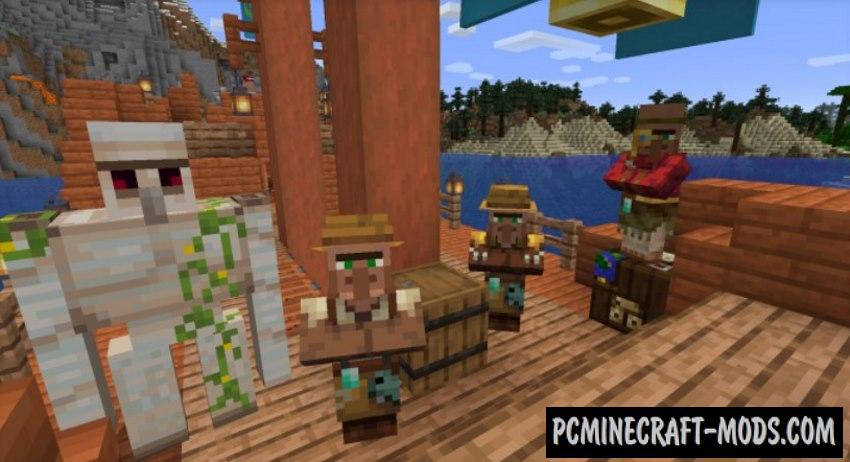 Ships out on the Oceans 1.16.5-1.16.4 is a unique adventure data pack that adds a lot of new content to the surface of the oceans. Now the player can find rare ships with different crews, for example, you can find both friendly villagers with a golem, or meet hostile pirates (Something like Illagers).

In addition, it has features to generate the destroyed ships with multiple crew members who are victims of the crash or an attack from pirates. You can save them, for example, go to the nearest village or find them a new ship. So this is a great addon to diversify the boring and safe movement through the water spaces of the game world.
Features
66% chance to meet a simple ship with a random crew

Inside simple ships, there is a script for randomizing the type of building materials used (there are 5 options for wood in total), as well as some differences in furniture. The most important difference is in banners (Sails). For diversity, about 10 different crews have been added (there are even monsters)
The difference on the ship's deck depends on the type of crew and thus there can be from 8 to 15 pieces of furniture. Monsters have the least furniture

Friendly ships have some working mechanisms that the player can use, while ships filled with monsters have cobwebs and other materials from the dungeon
You can learn more about the industry of friendly ships, for example, somewhere on the deck there is a sign with all the statistics on production

Sometimes the larger the ship, the more resources it carries, but mostly it depends on the types of ships (Military, transport, passenger)
10% chance of generating a trap ship. When the player approaches such a ship, it instantly changes its appearance from friendly to enemy (a web is Generated and the sail changes to a banner of monsters). Its crew turns into witches and wizards
10% chance of generating a kamikaze ship. It is completely filled with dynamite and its mission is to search for friendly ships.
Review
How to install Ships out on the Oceans Data Pack
Open the game
Select the world in which you want to install the data pack, and click on "Configure"
Click on "Open world folder"
Open the "data packs" folder and extract the downloaded content from 1 of 2 folder there
Open the "DATA" folder and extract the downloaded content from 2 of 2 folder there
Ready
Credits
Created by Ercerus
Download