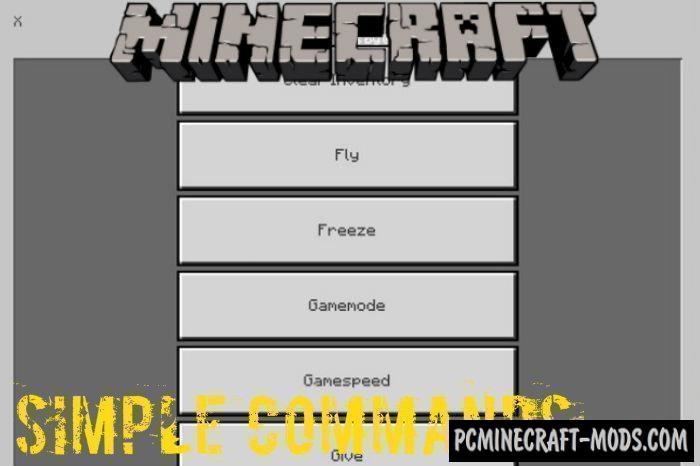 Simple Buttons Commands mod adds a simple user interface that will give you the ability to use various commands using buttons. The feature of the option is that it is quite convenient and has the necessary frequently used commands.

Features
Airplane mode
Switch game modes
Quick access item/unit
Teleport (x, y, z)
Change game speed
Suicide
Change the time (day/noon/midnight/night)
To obtain the coordinates (x, y, z)
Starter kits
Level shift
Spawn Pets
Browser
Block editor
Changing the block size
The change of the brightness of the unit
The list of ID of items/blocks
The alert window
X-ray
Installation in your home
The SC button will appear in the lower right corner of the screen. Click this button to open an interface where you can access all buttons with commands.
Screenshots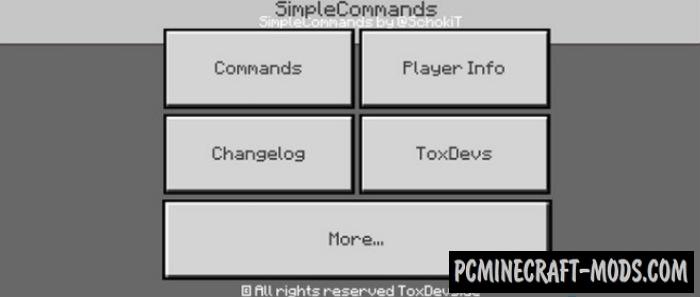 Installation
Download mod
Start BlockLauncher Pro
Click on the wrench key
Go to "ModPE Script"
Enable mods and click "Add"
Now you need to find the downloaded mod in the file system of your device and click on it
Mod installed, enjoy the game!