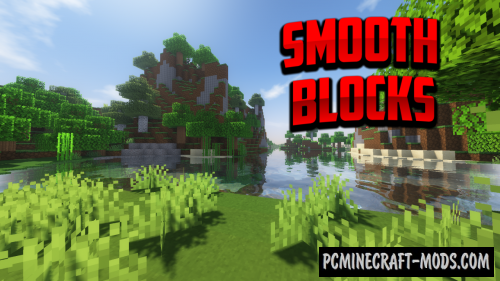 This resource pack called Smooth Blocks And More! 1.16.5-1.16.4 is a very beautiful and high-quality pack in an unobtrusive smooth style. By using this, some of your textures will become darker or lighter (Depending on the biome), many blocks will get a realistic look, and the rest of the non-categorical vanilla blocks will get the same style of the middle ages.

This pack can offer you quite bright, smooth and clearly combined with various textures blocks, objects and even a hand-drawn sky! Daily descents into the mines will turn into unique adventures, because the graphics will be somewhat similar to the one shown in the Minecraft Dungeon. Now your survival will get a completely unique gameplay that is not typical for a default game or even if you use improved default textures.
The main goal of this project is to hide the cubic features of vanilla gameplay and make the environment like a single solid texture that smoothly changes depending on the nearest biomes. Thanks to a very high resolution of 128×128 pixels, the author was able to draw transitional borders (Something like connecting wallpaper in the real world) which perfectly mask neighboring blocks and thus you get a solid smooth wall or floor. The best combination can be obtained if you use building materials obtained in the same biome.
Screenshots
How to install Smooth Blocks And More!
Install Optifine HD
Download Resource Pack
Unzip it and copy to C:\Users\User_Name\AppData\Roaming\.minecraft\resourcepacks
In the game settings, select the desired resource pack
Ready
Created by Yuruze