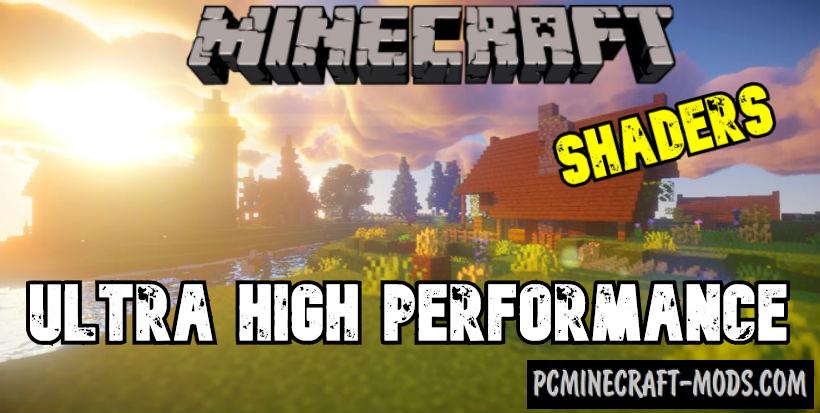 This is an incredibly high-quality 1.20.2-1.19.4 Shader pack with excellent optimization of scripts and algorithms for GLSL graphics in Minecraft. This includes over 30 script-mods for various additional graphics micro-particles in the game. Now you can notice the volumetric clouds that behave like a massive mix of matte-glossy blocks of glass, because the light from the sun is absorbed by the clouds and you can see the glow and scattering of light behind the clouds – ie on the ground in the form of clear shadows at lunchtime and a little transparent in the morning or sunset time.
Water includes several features, such as 3D behavior of waves, glare from the sun, mirroring clouds or other things. Shaders have several 1.17 mods for shadows, for example, they separate the shadows that are generated from the sun, from artificial light sources and the shadows that were generated later from the crease of light somewhere in closed rooms. Fog takes into account the time of day and will be generated only at a certain time or where there is no concentrated sunlight. Fog has a random concentration generator, for example every day in the same place you will be able to see in the morning a different fog and its color will change depending on the azimuth of the sun.
This Shader pack contains a lot of graphics algorithms which are not present in some new realistic games. There are many logical solutions to make it plausible and random. To do this, you need a video card for example, nVidia 900 GTX or other devices that support OpenGL 4.1 or above. It will also require OptiFine v1.10.2.1 and above.
Ultra High Performance Shaders Features
Light entering a camera lens creates a similar effect
Big Rainbow
The Large Rainbow Flare for the lens flare
Moon Flare
Lens Flare for the moon
Cloud Plane
Cloud Shadow
Shadows for the clouds, Best to have on when using Dynamic Weather for best lighting results at a cost to fps
Continuum's New LensFlare
Light Jitter Speed
Light Jitter Strength
New Specular which has much higher quality for supported texture packs. Chroma Hills is supported
Disables the lighting on grass and leaves to make them look better at distance
Variable Penumbra Shadows. Makes the shadows get softer as they go down
Water Depth Fog
Parallax Water
Screenshots
How to install Ultra High Performance Shaders?
Download and install Sodium or Optifine HD
Download the shader pack from the section below.
Sometimes the authors create different simplified or advanced, Bedrock (Minecraft PE) or Java versions, so choose the option that you like or that you think your graphics card can handle.
Please note that some releases may contain bugs, incompatibilities with resource packs and other graphics addons, and in some cases may cause conflicts within Optifine HD. You can try installing a previous build to fix this.

Manual installation:

Unpack the "Zip" file in the "Shaderpacks" folder.
This folder is located at the following path:

Mac OS X:
/Users/Your Profile Name/Library/Application Support/minecraft/
Quick way to get there: Click on the desktop and then press the combination of "Command+Shift+G" keys at the same time.
Type ~/Library and press the "Enter" key.
Open the Application Support folder and then Minecraft

Windows 11, 10, 8, 7:
C:\Users\Your Profile Name\AppData\Roaming\.minecraft\
Quick way to get there: Press the "Windows" key and the "R" key at the same time.
Type %appdata% and press "Enter" key or click OK.

Quick installation:

For GLSL Shaders: Click on "Shaders", choose the desired Shader and click "Done"
For OptiFine: In settings, click on "graphics options" -> "Shaders", choose the desired Shader and click "Done"
Now it's loaded and ready to use in the game world!