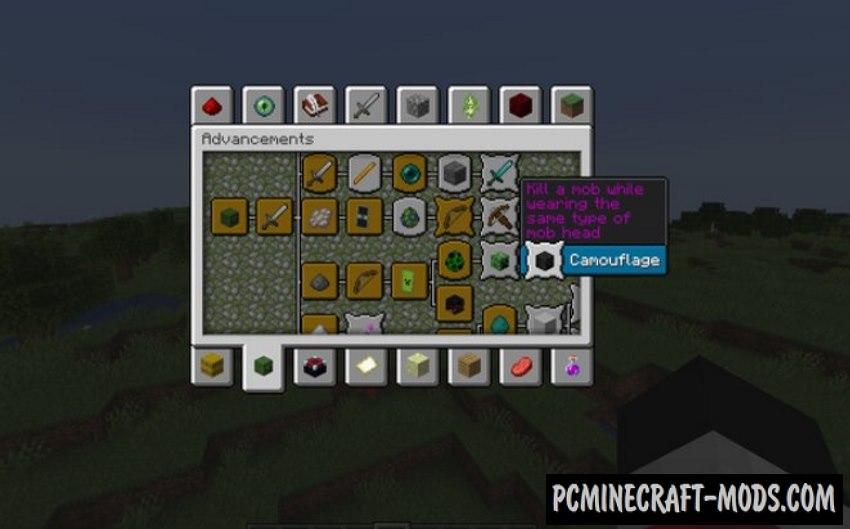 BlazeandCave's Advancements 1.18-1.17.1 is the most advanced datapack that contains more than 700 unique achievements and more than 200 challenges. Each custom achievement is well thought out so that you can play in a completely unique style, for example, perform achievement and get different prizes with rewards that will be useful for performing subsequent challenges.

A team of Cavinator1 and more than 20 people worked on this so that the player had several paths and more freedom in choosing during survival, because the authors are well aware of random dangers in different worlds and made this data pack very flexible to every unforeseen situation.
There are 15 achievements branches in total, and each of them has an extra challenge. Additionally, there is a special feature to get bonus items and rewards. In order for players from all over the world to understand the tasks, the authors created a translation for 7 languages (Russian, Chinese, French, German, Japanese and Español). This data pack has several versions, for example, the first is compatible with the 1.16 version of the game, and the second with 1.18.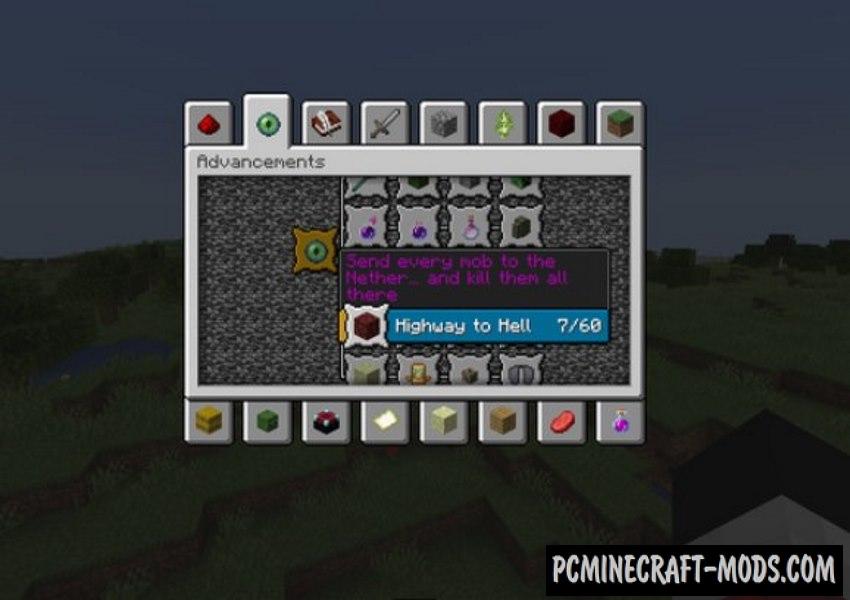 Features
BlazeandCave's tab – is at least the main branch that shows the overall progress from other branches. After completing other sub-quests, you will be able to get the most valuable rewards here
Mining – contains all achievements related to mining. Some of them are vanilla and you may know them. The authors added even more achievements to add some adventures in the mine for you
Building – this branch of achievements will introduce you to the skill of building useful houses. There you will learn about how professional players build
Farming – authors have divided the vanilla branch of "Husbandry" into the "Agriculture" and "Animals" tabs
Agriculture tab – focuses on crops and various plants, such as building different farms
Animals – here you will be able to earn rewards for the breeding and domestication of animals and there are also some quests for fishing
Monsters – this branch will appeal to most players because it is the most difficult of them. Here the authors came up with the most incredible tests for which you will receive a unique armor and weapons as a reward
Weapons – introduce the player to traditional and non-traditional weapons. You will also learn about some bugs and secret mechanics to kill monsters very quickly
Biomes – will appeal to players who like to travel. The more places you explore the more rewards you will get
Adventures – it contains achievements related to the study of random structures, villages, trade, raids, searches for the ocean monument and forest mansion
To activate the HUD progress bar use the following command:
/scoreboard objectives setdisplay sidebar bac_advancements
To hide the progress bar, enter the following command:
/scoreboard objectives setdisplay list bac_advancements
Sometimes this can stop to update, you will need to manually update your achievements:
/function bc_rewards:update_score
By default, you will not receive rewards after completing an achievement, you will need to enable this:
/scoreboard players set reward bac_settings 1 – (Or use 0 to turn off)
There is an automatic update of your progress bar with the ability to set a custom timer in seconds:
/scoreboard players set adv_score bac_settings X
To choose a different language, just download the additional pack and select it in the language settings.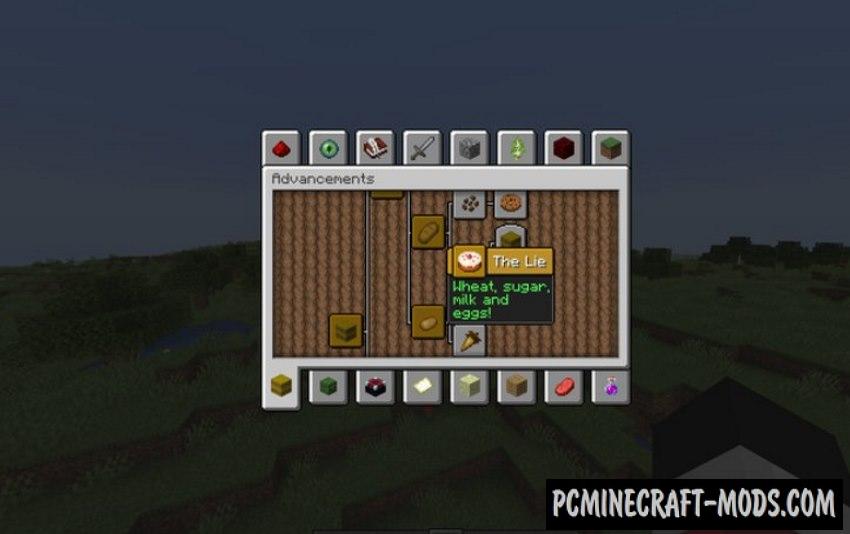 Review
How to install BlazeandCave's Advancements Data Pack
Open the game
Select the world in which you want to install the data pack, and click on "Configure"
Click on "Open world folder"
Open the "data packs" folder and extract the downloaded archive to it
Ready
Credits
Datapack created by Cavinator1 (Twitter)
Official BlazeandCave's Advancements Pack twitter
Download
You can support the author and get additional benefits such as access to the Upcoming Features Roadmap for this datapack and your name in the credits!

Direct Links: