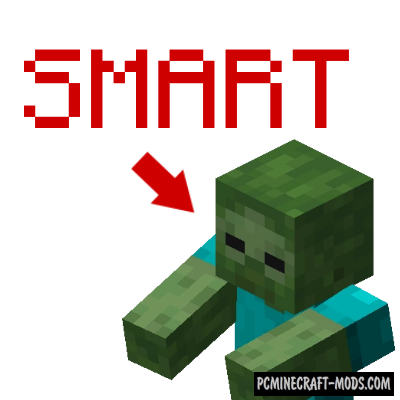 This modification will replace the intelligence of some monsters, making them much smarter and more deadly! Now the game will become much more interesting and just one of your mistakes can be fatal! Zombies will be able to destroy blocks, skeletons will shoot more accurately and further, and creepers will walk during detonation!

Changes
All mobs
There is a 25% chance to sleep with XRay (They will be able to find the player, even if they don't see him).
They will be able to see the player at a distance of 64 blocks.
Creeper
5% chance to get sleepy with the "Walking fuse" property. This property makes them walk during the explosion, and not stand still.
5% chance to spawn with the "Ignore walls" property. It causes them to explode, even if there is a wall between the player and the creeper.
5% chance to get sleepy with the "Violation" property. The creeper will try to make a hole in the wall to let other mobs in.
5% chance of launching into the air. When they are within the player's reach (depending on the power of the explosion), they ignite and rush at the player.
1% chance to appear as a Creeper Sin.
Skeleton
Now they can shoot at the player from a distance of up to 64 blocks, much more accurately and run away from players who come too close.
Zombie
5% chance to appear as a mining zombie. He will break the blocks to get to the player.
Review
How to install Enhanced AI Mod
Download and install Minecraft Forge
Download a Mod
Unzip it and copy to C:\Users\User_Name\AppData\ Roaming\.minecraft\mods
Ready
Created by: Insane96MCP