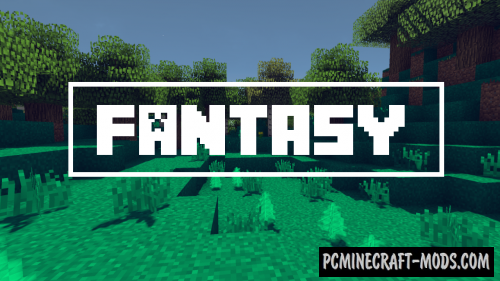 With this RPG resource pack you will be able to see the whole world from a very different perspective. Jehkoba's Fantasy 1.16.5-1.16.4 – a great 16×16 resource pack that will fill your game world with new colors.
This texture pack is very easy to perceive, because it will facilitate the standard pixels and thus you can see biomes in a completely new style because it will be much lighter and the color spectrum shifted to the green-blue area. It is a nice, well-detailed RPG textures to change everything around you, including the smallest details and elements.
As you know, the author is engaged in professional drawing and has won many competitions for the best art, so this pack is a collection of the best sketches in a unified style. Basically, it uses progressive styles of the new school, some elements are taken from street drawing, some blocks have received an improvement in the vanilla style and you can also notice the LEGO style of drawing. This is a great mix to turn a dark boring game world into a brighter place with a bunch of colorful game elements that add more interest to the gameplay and a pleasant environment atmosphere.
Screenshots
How to install Jehkoba's Fantasy
Install Optifine HD (Not necessary but desirable)
Download a Resource Pack
Unzip it and copy to C:\Users\User_Name\AppData\Roaming\.minecraft\resourcepacks
In the game settings, select the desired resource pack
Ready
Official link:

Direct link: