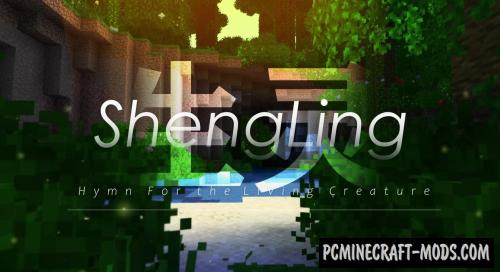 ShengLing 1.16.5-1.16.4 is a fairly high-quality resource pack with a unique range of lighting throughout the day, incredibly detailed 3D models, as well as excellent overall style. The author of this 16×16 resource pack tried to improve the surrounding world (nature) of your minecraft as much as possible.

Basically, this contains a huge number of changes for flora and fauna and does not affect other vanilla objects in any way. Additionally developed special Addons: Animated creatures Low fps or High fps and Cherry blossom. By using these Addons, it replaces the need to use shaders. Now the foliage of the trees will get a more realistic appearance, and the tree varieties will change into much larger ones. Under some of them you can even find fallen leaves. The author completely changed the color scheme of sunsets and sunrises, and the lighting became more beautiful.
The author also refined the vanilla features of the bee, as well as added fireflies and butterflies. Now these little creatures have the ability to fly around plants. This is contained in the Addons and you can choose high or low options that differ in the quality of the flight animation. Each of the butterflies has about five skin options that depend on the biomes. Especially for this texture pack created Jasmine field in which players can test all the features of resources.
Screenshots
How to install ShengLing
Install Optifine HD (Not necessary but desirable)
Download Resource Pack
Unzip it and copy to C:\Users\User_Name\AppData\Roaming\.minecraft\resourcepacks
In the game settings, select the desired resource pack
Ready
Created by: coco_fish82 (Twitter)