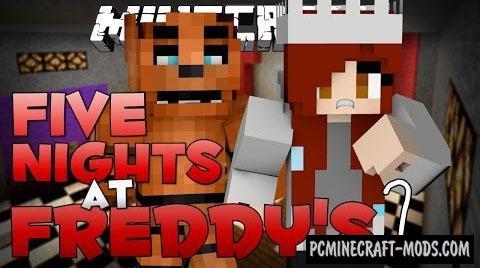 The multiplayer map is based on the Five Nights at Freddy's 2 game. Choose a side and follow the rules to win this mini-game!

Player roles
Security – First, stand on the green Mat. After that, you will find yourself in your office, where the player will hold out until 6 am. Use your flashlight and camera to keep an eye on animatronics. If they get too close, put on a Freddy mask and the animatronics will disappear. Be careful with the flashlight! Its battery charge is not very high (click the tab to see the remaining charge). Do not forget about the music box, which must be constantly used
Animatronics – Get to the security Office before dawn. Watch out for the security guard when he's wearing a Freddy mask. When security turns on the light, you won't be able to move, but it won't last forever, because the flashlight also has a limit.
Screenshots
Review
How to install FNAF 2 – Multiplayer Edition
Download map
Unzip it and copy to C:\Users\User_Name\AppData\Roaming\.minecraft\saves
Ready