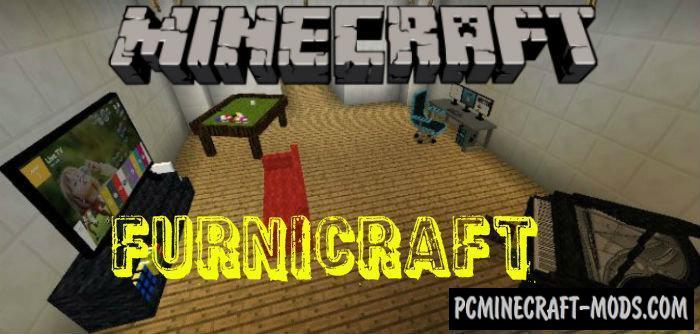 Furnicraft 1.17-1.16 mod adds to the Minecraft PE a lot of new furniture blocks – from kitchen and bathroom equipment to computers, TVs, sofas and other interesting interior items for home decoration. Also now in modification there are devices and jewelry.
Furnicraft Addon Screenshots
Furnicraft Addon Features
All furniture can be rotated and change the color. There are also functional furniture, such as a sofa on which you can sit. A list of some furniture is below.
To get furniture in survival mode first you need to craft clay for furniture

After receiving the clay, you will need a stone cutter. Crafting furniture in stone cutter

You can also have a wife and baby, for this first find her and trade with her until you have the opportunity to have children. So now looks inventory NPC

To craft the ring, first you need to find the rose gold ore, it can be found in the village below.

The recipe for a ring:


When you have a baby you will need to put him in the crib and give 1 diamond, and when he wakes up to feed (Apple, cake) to make him grow up.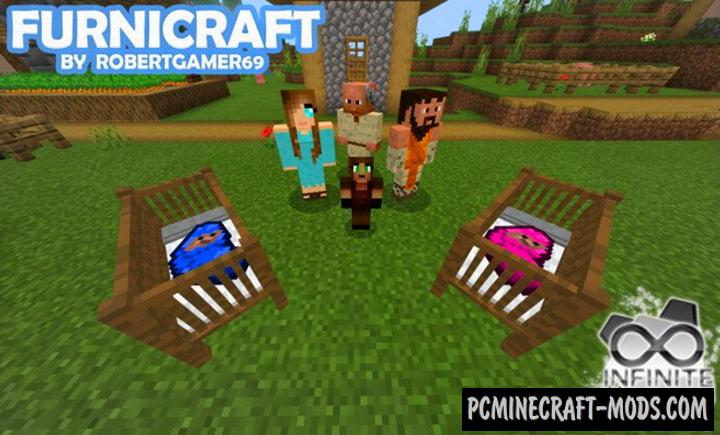 List of Furniture
Tv (16 texturas)
Furniture for Tv (16 colors)
Soccer Table
Swing
Laptop
Bath
Sink
Toilet
Watering can
Fridge
Stove
Microwave over
Trampoline for the pool
Christmas tree
Gamer PC Set
Piano
Park bench
Big chewing gum machine
Small chewing gum machine and more…
What's new
added 70 new npc of female
added 70 new npc of male
textures were reduced to be compatible with more devices
added 70 new npc of boys
added 70 new npc of girls
How to install Furnicraft Addon
Download zip archive with addon inside
Unzip it and open the addon file using the ES Explorer
This should start the import
Open world settings
Select new Behavior Pack and Resource Pack
Enable Experimental gameplay (if necessary)