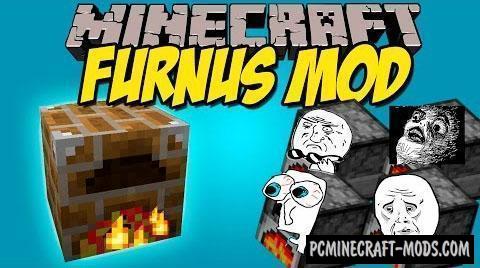 Furnace 1.12.2 mod offers players a new oven and meat grinder with incredible features. Now you can get a lot more useful things by processing various resources, such as getting more experience for smelting ore, accelerated processing, and so on.

Features and Updates
Upgrade speed: increases speed and fuel consumption. Increased efficiency reduces fuel consumption
IO update: provides automation. I=Input, Output= Output, F=Fuel
Slot update: adds one more input and output connectors (Max. 2)
Upgrade bonus: increases the probability of obtaining a larger volume of products. Increases fuel consumption.
XP upgrade: increases XP output.
ECO update: keeps the furnaces warm even if there are no items in the input slots. If the fuel runs out soon, it warns that the melting process indicator will be reset.
Review
How to install Furnus
Download and install Minecraft Forge
Download mod
Unzip it and copy to C:\Users\User_Name\AppData\ Roaming\.minecraft\mods
Ready