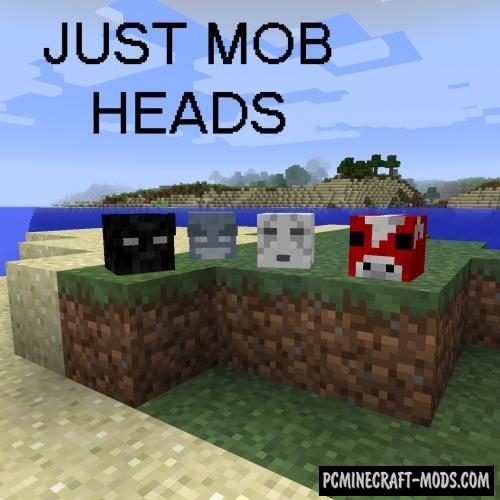 With the Just Mob Heads 1.16.5-1.12.2 mod, the player gets a small chance that after the death of various mobs, their head will fall. You, as a hunter, will get the opportunity to collect all these trophy heads and put it in the right place.

The probability of falling for each mob individually, you can change it yourself in the mod settings. The author also added this feature for all new mobs from Nether Update. Additionally there are several commands to make it easier to collect the heads:
/jmh reload – reloads all changes made in the "./config/justmobheads/headchances.txt" config file
/jmh head list – lists all mob names of available mob heads
/jmh head (mob name) (amount) – generates (amount) of heads from (mob name).
Updated to 3.7 version
How to install Just Mob Heads
Download and install Forge with Collective (Contained inside the archive)
Download mod
Unzip it and copy to C:\Users\User_Name\AppData\ Roaming\.minecraft\mods
Ready
Created by: Serilum
Official Link:

Direct Links: