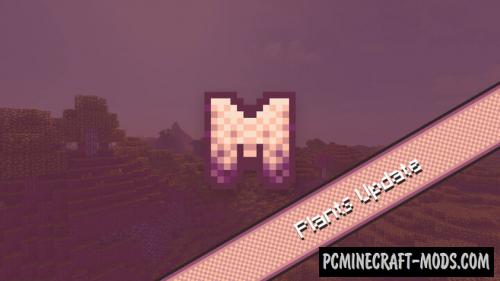 Monstrul-Rustic Retro 1.16.5-1.16.4 is a great resource pack with a standard resolution of 16 x 16 pixels, which will bring to your game the atmosphere of games from the 90s! It will completely redesign your world, changing not only the graphics, but also the sound components!

A high-quality package of textures, thanks to which you can discover very interesting changes in the retro style of NES games. With Monstrul-Rustic Retro, you can feel and immerse yourself into a very interesting gameplay.
Most textures have a lot of purple colors and shadows, this is due to the limited features of old TVs, for example, many players lost the red pixel and players got a mix of green and blue. Despite this, players are even more immersed in the unusual style of old games, because everything looks new and there is a desire to explore every remote corner of the game world.
Looking closely at the surface of the blocks, the player may notice an unusual drawing style. The author placed the pixels in such a way that it has a diagonal ordering, so this has the opposite idea of masking small resolution textures. However, it looks very promising and most players are surprised, because the separation of blocks is imperceptible, it has as if a single solid surface.
You can experiment with combinations of decorative and building blocks to get new compositions of patterns, because in the vanilla world this style has a very harmonious and smooth reunion between blocks. As a result, the player can build some of the levels from their favorite old games or for example modern analogs of NES games.
The author has done a lot of work on adding all new content from Nether Update, for example, all Nether trees received updates. In the future, after the full release of 1.16, the author promised to update his texture pack so that players can enjoy his creation in each of the worlds in the game.
Screenshots
How to install Monstrul – Rustic Retro
Install Optifine HD (Not necessary but desirable)
Download Resource Pack
Unzip it and copy to C:\Users\User_Name\AppData\Roaming\.minecraft\resourcepacks
In the game settings, select the desired resource pack
Ready