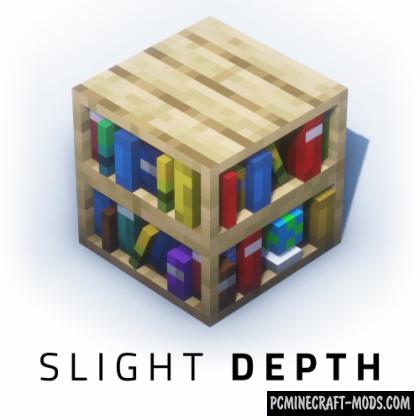 Slight Depth 1.16.5-1.16.4 pack contains amazing faithful 3D models for items and blocks that were created in your favorite vanilla style! The author does not like the various existing 3D packs, because there models have a lot of unnecessary details that are often simply inappropriate, so it decided to fix these flaws.

Many changes were made to the blocks that you can interact with because these blocks are considered frequently used, such as stairs, trolleys, tools, workbenches, books, chests, and various redstone components. These improvements are related to the addition of 3D geometric micro details on the surface of the texture, the more such 3D pologins the texture has the more beautiful and realistic it looks.
The resource pack has a standard resolution of 16×16 pixels and is a great choice for every player with a weak computer, because you can always add some shaders to further improve the Slight Depth pack. The author said that he changed some vanilla textures to combine with 3D details, for example, the cactus block and some flowers got a brighter green color palette, all lemps and other light sources changed the dark orange color to a more yellow, and all iron items and blocks now have the color of aluminum.
Special attention is paid to items in the inventory and their appearance in the player's hand. Regular item icons have smoother 2D textures and you may think that they have a higher resolution of 32×32 pixels, but this is just the result of quality optimization of vanilla options. Currently, 48 textures have been changed for holding in the player's hand. In most cases, it has darker shadows, but this is done for integration with popular shaders, because shaders slightly increase the brightness of all items, tools, and weapons.
Screenshots
How to install Slight Depth
Install Optifine HD (Not necessary but desirable)
Download Resource Pack
Unzip it and copy to C:\Users\User_Name\AppData\Roaming\.minecraft\resourcepacks
In the game settings, select the desired resource pack
Ready