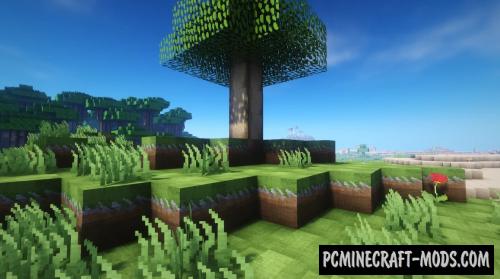 Paquito 1.16.5-1.16.4 is a cool resource pack in a rather unusual style for Minecraft! Unlike vanilla, here the textures are smeared on the block, creating a careless and rather strange look reminiscent of fabric! This is perfectly combined with shaders of different quality and the world turns into a very nice place to survive.

This will mainly appeal to fans of resource packs with a cartoon theme, and it also has a nice bonus that is associated with a higher detail of 32×32 pixels, which is twice as large as the vanilla set. The author tried to make invisible borders between the same blocks, but there is a function of random directions of textures, so it will look like a modern room wallpaper. This effect is particularly noticeable in dungeons and in places where ordinary stone or ores are used. On the surface, a slightly different drawing style is used because all this is intended for compatibility with shaders, but it is worth going to a dark place and the player will see something similar that is used in dungeons. If you want to build a modern house, it is best to use underground blocks because they have many decorative uses, for example to create a contrast between different walls, ceilings or floors, so that you can combine processed blocks with wild ones and get a room with a modern design.
Fabric-cartoon is the first texture drawing style of its kind, and you can find even more features in it if you try to test it in different building construction genres.
Screenshots
How to install Paquito
Install Optifine HD (Not necessary but desirable)
Download Resource Pack
Unzip it and copy to C:\Users\User_Name\AppData\Roaming\.minecraft\resourcepacks
In the game settings, select the desired resource pack
Ready