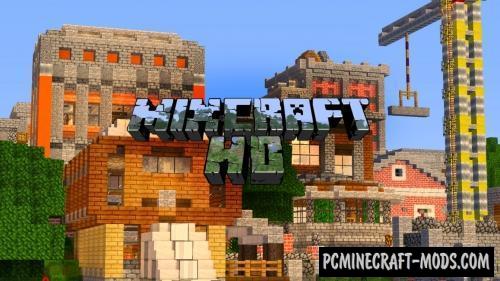 Modernity is the main feature of Mixcraft HD 1.16.5-1.16.4 resource pack, as well as the additional advantage that these textures were based on default (standard) themes. The game will become much more realistic because each block will get images of real modern materials or a special style of drawing things on the block.

Mixcraft has the HD designation and this means that the player will get textures with a higher resolution. The author tried not to increase the resolution too much and limited it to 32×32 pixels on each side of the block. This is enough for players to get more or less high-quality materials for the construction of modern buildings and at the same time not to load the graphics processors too much. As you know, HD textures are mostly used in large cities and players also use medium or long-range rendering, so that with a lower resolution you can see more high-quality objects.
Blocks of stone, brick, wool, and other commonly used materials as walls, ceilings, and foundations have received more detailed textures from the real world. Now the player will have real facade building materials that are used by modern masters in this case, because it will look like Wallpaper, cement, plaster, beautiful brickwork or even an ornament. The author also did not forget about the improvement of vanilla decorative elements, such as wooden and iron doors, fences, hatches and other well-known objects. All of them have a more modern treatment to use inside modern homes.
Screenshots
How to install Mixcraft HD
Install Optifine HD (Not necessary but desirable)
Download Resource Pack
Unzip it and copy to C:\Users\User_Name\AppData\Roaming\.minecraft\resourcepacks
In the game settings, select the desired resource pack
Ready
Support the author and download from the official site:

Direct link: