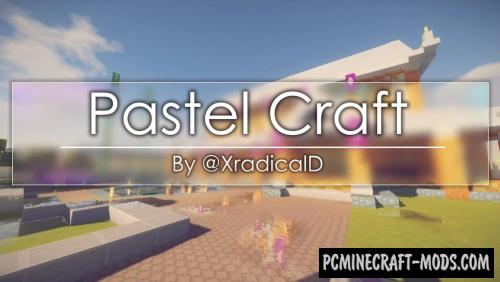 Pastel Craft 1.16.5-1.16.4 – this resource pack was created specifically to bring a more vibrant and minimalistic style to your game, with an emphasis on pastel colors. This is a very good cartoon style that uses vanilla elements, so it will appeal to most fans of the classic game.

This cozy and pleasant atmosphere will definitely not leave anyone indifferent! The pack contains textures for the world, items, menus, and a bunch of other things. It looks quite aesthetic and very harmonious in the game world. This style of drawing is used in most modern games, because it has a feature to make the game more intuitive in some places. To save your GPU resources the author has provided for the use of a special color palette that has its own borders and this is used in the algorithm for predicting the generation of texture layers on blocks. Despite its standard 16×16 resolution, the pack will hide all the vanilla features and replace them with brand new ones. Inside the world, the player will feel like a character from a popular cartoon series, for example, similar pastel textures are used in the Simpsons.
There are also developments in optifine HD compatibility, such as adding 3D models for bookshelf, dispenser, and ladder. Most building materials have more vanilla textures, but experienced players will notice new micro details on the surface of the blocks. It is also worth checking out the armor sets, now it has a fabric mixed with diamond, gold and other inserts. The environment has an acidic note, but it gets used to very quickly, so the player will enjoy surviving with this updated pastel world.
Screenshots
How to install Pastel Craft
Install Optifine HD (Not necessary but desirable)
Download Resource Pack
Unzip it and copy to C:\Users\User_Name\AppData\Roaming\.minecraft\resourcepacks
In the game settings, select the desired resource pack
Ready
Official site:

Direct links: