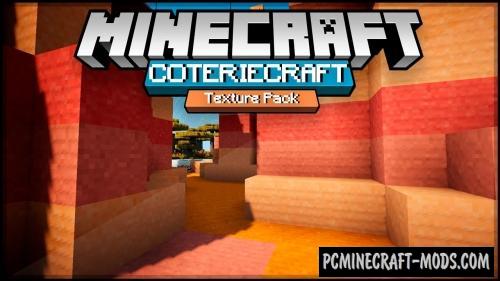 Coterie Craft 1.16.5-1.16.4 was created as an alternative to the standard resource pack. But it has the feature to be a little lighter during the day and a little more contrasting at night than the vanilla options. Now your journey will be filled with new colors because the player will be able to capture more beautiful places or see more new elements in the dark.

You may have heard about Seasons Addon which adds more realism to Minecraft, so the author has a lot of knowledge in the field of vegetation and it helps him to create truth-like textures for grass, tree blocks, topsoil and other natural matter. 16x and 32x options can not convey all the ideas of the author, so he is working on a 128x version that will eliminate all the shortcomings and add new micro elements that will make your game world more enjoyable for research.
Playing with this pack all biomes will get some kind of atmosphere of the jungle or other Equatorial places from the real world. The player can use this to explore island areas or play on ready-made maps with a jungle castle (Such as the adventures of Indiana Jones), survival on an island, or just get creative in these places. Mines and Nether World have also received lighter block options and in the background this is used to remove the standard darkening.
Screenshots
How to install Coterie Craft
Install Optifine HD (Not necessary but desirable)
Download Resource Pack
Unzip it and copy to C:\Users\User_Name\AppData\Roaming\.minecraft\resourcepacks
In the game settings, select the desired resource pack
Ready
Official Link:

Direct Link: