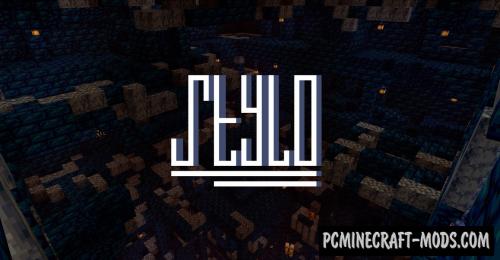 Stylocraft 1.16.5-1.16.4 resource pack is able to decorate your minecraft in a very bright retro style, with a peculiar Endesga 64 color palette. This has a modern style of simplified pixel resources that will appeal to many fans of simple packs.

The author decided to create such a texture pack as a training to improve their skill and knowledge of pixel graphics! Endesga 64 palette is a good idea to combine it with the vanilla Minecraft design, because it will add more comfortable gameplay! Stylocraft pack has many non-standard drawing techniques, for example, it uses modern progressive combinations of pixel bundles to evenly fill the area, sharp transitions between dark and light tones, as well as the use of popular colors simultaneously in one place. All these techniques make it possible for blocks or objects to be clearer, but slightly darkened. Clear blocks are an excellent platform for using special graphics shaders with blur effect, because this way you can get a very interesting effect of establishing clarity and blurring at the same time.
The author tested this a lot of time on himself, so that every player can not worry about the fact that this pack will be boring. Special attention is paid to decorative blocks that are used to build rooms or even large levels. The color palette of blocks can be similar to textures from old NES or modern pixel games, so you can use this in your project to transfer other games into Minecraft.
Stylocraft has a lot of developments for the latest Nether Update, and the author is also moving in the direction to add more features from Optifine HD. At the moment, there is a fully transparent glass feature, and it is also planned to add random textures for some blocks. Stay tuned here or in the official discord server to get a full update.
Screenshots
How to install Stylocraft
Install Optifine HD (Not necessary but desirable)
Download Resource Pack
Unzip it and copy to C:\Users\User_Name\AppData\Roaming\.minecraft\resourcepacks
In the game settings, select the desired resource pack
Ready
Official Discord server:

Direct link: