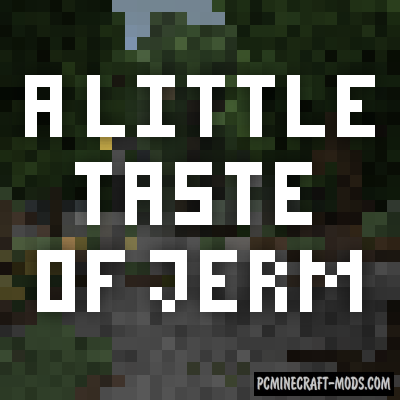 A Little Taste of Jerm 1.16.5-1.16.4 is a very nice 16×16 resource pack, which the author has been working on for several years and uses it in his YouTube videos. These textures are not much different from our regular vanilla, they rather complement your vanilla style with new details.

The author of this pack recommends using it together with Optifine HD to reveal all its hidden features, such as micro 3D particles on blocks, improved fog, and even your own sky. Try this to simply improve all game biomes and leave vanilla blocks with almost no major changes.
Vanilla resources have a more empty appearance, this fact is tried to eliminate in different ways, for example, changing it to super realistic options, adding 3D elements or changing the theme of the environment.
This pack leaves the most familiar default charm, but adds new elements in those places that are key on the player's side. If you look at the structure of biomes or standard buildings you can see how the algorithm generates additional types of blocks in places that mask or add logic to transitions to micro parts of biomes. The author noticed this trick from the developers and started to work on the external appearance of this support-blocks. As a result, it was able to supplement the environment at the level of world generation, so that now the player can get a deeper drawing of details in any game place.
Screenshots
Review
How to install A Little Taste of Jerm
Install Optifine HD
Download Resource Pack
Unzip it and copy to C:\Users\User_Name\AppData\Roaming\.minecraft\resourcepacks
In the game settings, select the desired resource pack
Ready