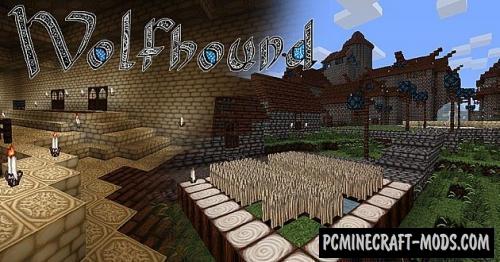 Wolfhound 1.17.1-1.16.5 is a fantastic collection of resources that will absorb you with its atmosphere and beauty in a real medieval world that is full of mythical creatures and objects. Basically, it uses a thematic design that allows you to combine any of the blocks from hundreds of other vanilla options, resulting in a building or room with magical notes of the interior and exterior.

Additionally, this is combined with popular shaders and most of the features of Optifine, so there are many reasons to praise the author and his work.
Especially pay attention to the resolution of 64 x 64 pixels. This resolution is optimal for most players, because it has an excellent graphic component both in terms of optimization and in terms of higher-quality images with a large number of FPS.
These textures are perfect for fans of castles like
Hogwarts
, or the fortress from the Lord of the Rings because the pack contains all the necessary improvements for frequently used blocks during the construction of such buildings.
You can also get a number of innovations that will help with creative ideas, such as a new set of paintings that depict mythical creatures such as: unicorns, griffins, valkyries, mermaids and a set of pictures with the image of players who will explore different rooms in the game world.
Screenshots
How to install Wolfhound
Install Optifine HD (Not necessary but desirable)
Download Resource Pack
Unzip it and copy to C:\Users\User_Name\AppData\Roaming\.minecraft\resourcepacks
In the game settings, select the desired resource pack
Ready
Created by: ThistlePack
Official download link:

Direct links: