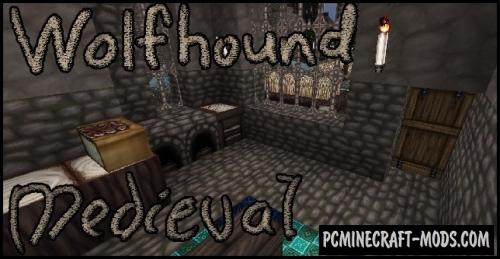 A worthy and very interesting medieval version of the popular Wolfhound 1.16.5-1.16.4 pack, which allows you to go into a dark age and experience in a well-crafted atmosphere of the time. Wolfhound Classic Medieval is a really global resource pack, and it will completely change your perception of Minecraft.

Instead of the usual cobblestone, the author drew a beautiful cobblestone of stone walls, and the usual tree takes on a dark hue. All the images found in the game belong to the terrible medieval period, and many items have individual symbols. In the daytime it is a little lighter than the vanilla option and this feature will make the player explore new places where you can find even more changes.
Themed building blocks will simplify the process of building and decorating rooms a little, so you can use it as a creative booster. In most cases, this pack is best used somewhere inside the town or village because this way you can quickly improve the environment and add more gameplay elements to every corner of the game.
Screenshots
How to install Wolfhound Classic Medieval
Install the Optifine HD (Not necessary but desirable)
Download Resource Pack
Unzip it and copy to C:\Users\User_Name\AppData\Roaming\.minecraft\resourcepacks
In the game settings, select the desired resource pack
Ready
Official download link:

Direct links: