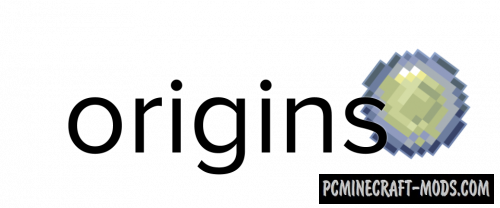 Origins 1.16.5-1.16.4 is a great modification for survival, because before entering the world, the player will be given to choose some original bonuses, but there are also some debuffs. There are 9 types of buffs in total, but there is also an additional addon (Extra Origins) that will add even more variations.

Now your survival will become more interesting and random because for example you can get bonuses that are based on the aquatic world, but on land the player will be a little slower than usual.
Updated to 0.7.0.1 version
Features
Each specialty has advantages and disadvantages, so it is selected individually for the style of play of each player.
Enderian
Can teleport with Ender Pearls;
Can reach futher;
Takes damage while in contact with water;
Is afraid of pumpkins.
Elytrian
Has Elytra wings by nature;
Every 30 seconds, can launch themselves up into the air;
Deals double damage while in Elytra flight;
Can only weal light armor (Armor with protection values less or equal to Chainmall);
Takes more kinetic damage (Fall damage, flying into blocks);
Recives a stacking debuff (Slowness and weakness) when in places with a low ceiling.
Archnid
Has the ability to climb;
Hindres foes with cobweb on attack;
Has 3 less hearts of life;
Can only eat meat.
Merling
Can breathe underwater;
Can see underwater;
Can break blocks underwater as if not in water;
Has increased swim speed;
Does not sink underwater;
Can only hold their breath for a limited time while out of water.
Blazeborn
Is immune to fire and lava damage;
Deals more damage while burning;
Is immune to poison and hunger status effects;
Starts the game in the Nether;
Takes damage while in contact with water.
Shulk
Has 9 additional inventory slots which don't drop on death;
Natural protection;
Can break stone blocks without pickaxe;
Can not use shields;
Exhausts quicker.
Phantom
(Can switch in and out of Phantom state)
Can walk through solid blocks while in Phantom state;
Is invisible while in Phantom state;
Gets hungry over time while in Phantom state;
Begins to burn in daylight when not invisible;
Has 3 less hearts of life.
Avian
Has permanent slow falling;
Is a bit quicker;
Needs to sleep at hight altitudes.
Feline
Does not take fall damage;
Can jump higher while sprinting;
Has slight dark vision;
Scares creepers sway;
Can only mine natural stone when there are at most 2 adjacent natural stones;
Has 1 less heart of life.
Screenshots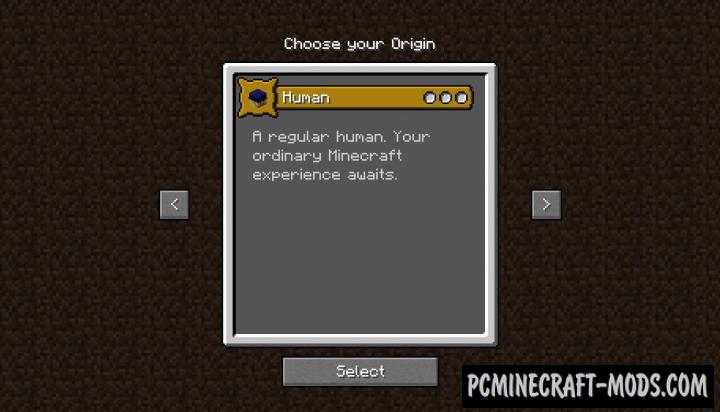 How to install Origins
Download and install Minecraft Forge or Fabric
Download a Mod
Unzip it and copy to C:\Users\User_Name\AppData\ Roaming\.minecraft\mods
Ready
Created by: Apace100 and MoriyaShiine