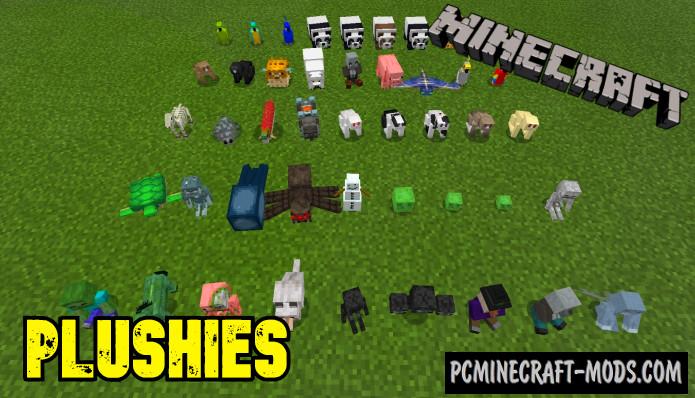 Plushies 1.19.3-1.19.50 – an interesting addon that adds more than 80 plush of hostile and passive mobs that you can use as decorations in Minecraft PE. They will be a great decoration near your home and at the same time a way of protection because they can be used as armor.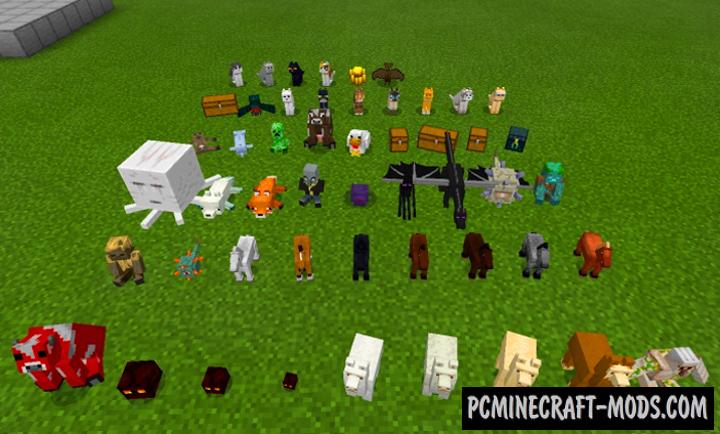 Features
To use an entity as armor you need to get closer before interacting with them.
Some of them can be used as a helmet for the snow Golem.
All plushies can be returned to the initial condition by killing them.
Also in the mod there are 105 new village plushies which can be to lend profession (list below).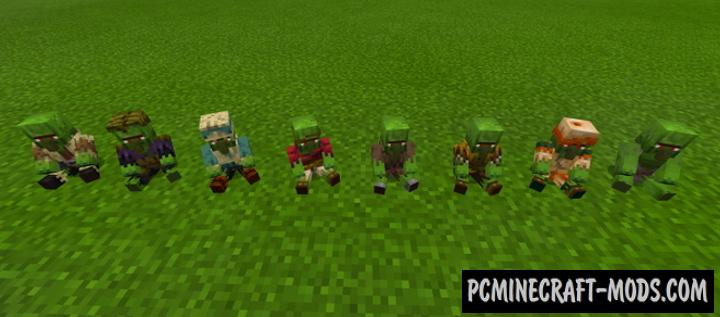 Profession Items
Armorer – iron chestplate
Butcher – raw porkchop
Cartographer – empty map
Cleric – glass bottle
Nitwit – dead bush
Leatherworker – leather tunic
Shepherd – white wool
Stonemason – stone
Toolsmith – iron axe
Weaponsmith – iron sword
Farmer – wooden hoe
Fisherman – fishing rod
Fletcher – bow
Librarian – book
To create the desired zombie inhabitant give the desired biome first (list below)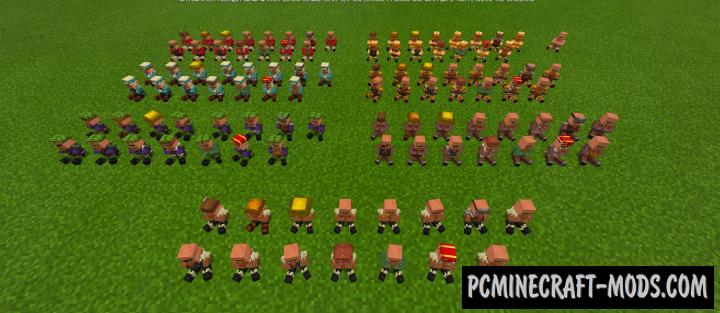 Plushies in the Biomes
Snow – snow
Swamp – slime ball
Taiga – spruce log
White variant – white wool
Desert – sand
Purple variant – purple wool
Butcher variant – bonemeal
Jungle – jungle log
Plains – grass
Savanna – acacia log
Brown variant – brown wool
Smith variant – Ink sac
Craft Recipes (Java)
Screenshots
How to install Plushies
Installation for iOS or iPad
It has only two installation methods. The first of which is simpler and fully automatic. This method is used for newer versions of the game starting from 0.16.
Method 1: Using .McAddon or .McPack
Most of the modifications or addons have .mcpack or .mcaddon format or rarely .mcworld files.
By clicking on such a file after downloading, you can see that the import process has begun. This means that all data from .mcpack is imported into the main folder of your game.
After a few tens of seconds, this process should be completed.
Next, you may notice that you have received new Behavior and Resource packs in the new world creation menu or the old world editing menu.
It is extremely rare for an addon to have a .mcworld downloadable file format. This means that it is intended specifically for a certain world created by the author.
McWorlds can be moved individually, for example using file explorer.
Mcworld also contains both a game world and a set of textures, as well as a pack of scripts for mobs and their characteristics or behavior, as well as changes to items.
Method 2: Using JS or Zip files
Download and install iFunBox, ES Explorer or another file explorer application that provides file management via Mac PC
Connect your iOS device to your computer using a data cable. This is a standard iOS cable that usually comes with the device
Using the Mac system, download any modification from our website
Next, open iFunBox (ES Explorer) or similar functional applications and go to the "File Browser" tab in the upper left corner
Find your device on the left sidebar. You may need to expand the available items by clicking on the plus sign for "Connected Devices"
Then click on the "Custom Applications" icon
Hover over Minecraft PE or Minecraft Bedrock and click on it
Select sandbox from the drop-down menu
Open the games folder, and then open the com.mojang folder
In this folder you should be able to see the following folders: "Behavior_Packs", "MC_Worlds" and "Resource_Packs"
At this step, we are interested in Behavior_Packs and Resource_Packs folders

The zip file of the addon/script usually includes two folders. In most cases, inside it is denoted as abbreviated: b, beh, behavior_packs or bh packs. And the other one that you need to add to the folder has the name: RP, Res_Pack, R_Pack or Resource_Packs

If you are using a Mac computer, you can open the zip file that you previously downloaded for the add-on by simply clicking the Zip file
Extract the Zip file to get two different folders. Sometimes the Addon includes only one folder, and sometimes several
Copy the "Textures" folder and paste it into the Behavior_Packs folder using the following path: /games/com.mojang/resource_packs
Then copy the Behavior Pack folder and move it to the Resource_Packs folder, which is located at the following path: /games/com.mojang/resource_packs
Open Minecraft Pocket (Bedrock) Edition. Create a new world or edit an existing one
Scroll down on the left sidebar. There you will see two new tabs. Go to the Resource Packs tab and select the newly downloaded Addon
Then go to the Behavior Packs tab and apply the Add-on that you previously downloaded
Enter the world and enjoy the addition!
Installation for Android
Method 1: Using .McAddon or .McPack
This is uploaded as files .mcpack or .mcaddon and very rarely as .mcworld. Inside such files there is a special structure that automates the process of installing add-ons, textures and maps directly into a special storage of additional content in your game.
To automate this, first make sure you have the latest versions of ES File Explorer installed
After downloading the .mcpack file or .mcaddon open the ES File Explorer application
Go to the Downloads folder
Locate the .mcpack or .mcaddon and click on it to import it into Minecraft Bedrock Edition
Next, you need to apply this in the resource pack and/or behavior pack tab when creating a new world or editing an existing world!
Method 2: Using JS or Zip files
Sometimes authors create modifications placed in zip or rar archives. This has a slightly longer installation process, but in this way the authors try to avoid errors that may occur during import.
First make sure you have the latest update for Minecraft Bedrock Edition. This will only work for versions higher than 0.16.0
Install ES File Explorer (or any other file manager application). You will need this to extract content from downloaded zip or rar files
Go to the Downloads folder and apply a long press on the zip file to select it. Then click the "More" button in the lower right corner. And then click "Extract to". Now click OK in the new window.
Open the new folder that was created when extracting the zip file. Sometimes an extension includes only one folder. But in most cases they will include two folders.
Copy the addon's Textures/Resources folder. To do this, long press on the folder, and then click Copy.
Go to the following address: /games/com.mojang/. You can get there by going to the "Internal Storage" in the ES File Explorer, then open the games folder, then the com.mojang folder, and there you will find the game files for Minecraft Bedrock Edition. Inside there are 3 folders that are responsible for custom content:
behavior_packs – contain scripts and changes for vanilla parameters
minecraftWorlds – used to install maps
resource_packs – sometimes used for add-ons, but also used to install texture packs.
Open the resource_packs folder and paste the folder you copied earlier.
Go back to the Downloads folder. Open the add-ons folder and copy the second Behavior pack folder.
Then move again to /games/com.mojang/, but this time open the behavior_packs folder and paste the copied folder here.
Launch the game and create a new world or edit an existing world.
Select all the game options you want, and then scroll down on the left sidebar and click on Resource Packs and apply the downloaded add-on.
Then click on the behavior packs in the sidebar and apply the same custom content.
Launch this game world and enjoy the new gameplay!
Installation for Java
Download and install Fabric API with Fabric
Make sure that you have the "Java" application installed.
Download the "Zip" archive from our website.
Inside this is a "Jar" mod. It can also contain old and new builds.
Select the latest version of the "Jar" file that matches the game version.
Please note that some releases may contain bugs, incompatibilities with other modifications, and in some cases may cause conflicts within Forge or Fabric. You can try installing the previous build to fix this.
Move the "Jar" file to the "Mods" folder.
This folder is located at the following path:

Mac OS X:
/Users/Your Profile Name/Library/Application Support/minecraft/
Quick way to get there: Click on the desktop and then press the combination of "Command+Shift+G" keys at the same time.
Type ~/Library and press the "Enter" key.
Open the Application Support folder and then Minecraft

Windows 11, 10, 8, 7:
C:\Users\Your Profile Name\AppData\Roaming\.minecraft\
Quick way to get there: Press the "Windows" key and the "R" key at the same time.
Type %appdata% and press "Enter" key or click OK.

The "Mods" folder is created automatically when you install Forge or Fabric, but you can always create it manually.
Open the launcher and select the desired modloader.
Launch the game and enjoy the new gameplay.
Ready!
Credits
Created by: Link_911

Downloads