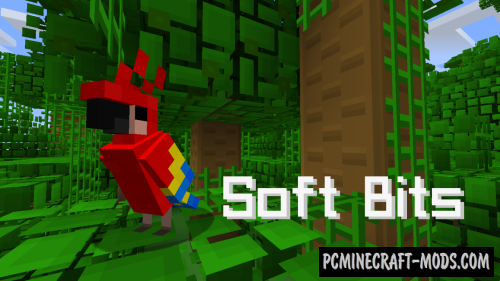 Here Soft Bits 1.17.1-1.16.5 is a cool resource pack in a simple but beautiful style. It replaces the options of the surrounding world, things, tools, and even mobs. All this looks in one topic, it is clear that the author tried to make a competitive pack that contains many original features and features from other creative works.

This creation will appeal to all fans of the
cartoon style
with a deeper optimization for different game locations. The world will now get a bright and rich color. It will also remove too bright elements for some wool and terracotta blocks, but it will add brighter pixels to those block options that are dark by
default
! As a result, the player will get a lot of new impressions from the balanced color scheme and deep study of the atmosphere of the gambling world. Soft Bits has all the necessary features and settings to bring biomes and custom locations to life as much as possible, which will surprise even the most discerning connoisseurs of minimalism.
By using a higher extension of 16×16 pixels which is quite a lot than the other 8×8
simplified
variants, it makes it possible to hide the transitions between the blocks, so it will be quite difficult to notice the dividing lines from the far and middle distance. You can use this feature to build more smooth and blurry 3D art, houses, streets of modern cities, or even huge castles that will get more realistic due to the high expansion.
There is no doubt that few professional
PvP
players use such an extension, because it can lower a few FPS points, even considering this drawback, so you can get a good alternative pack that globally changes everything around. The author also tried to optimize it, so he managed to compress the textures to about 5 megabytes, which is a very good result.
Additionally, this contains some improvements for the glass blocks, but for this you need to activate mcpatcher. Many textures have an alternative version of the display script (instead of png textures, the scripts draw each pixel separately), which allows you to use
shaders
and other Optifine features to improve the overall quality of blocks.
Screenshots
How to install Soft Bits
Install Optifine HD (Not necessary but desirable)
Download the Resource Pack
Unzip it and copy to C:\Users\User_Name\AppData\Roaming\.minecraft\resourcepacks
In the game settings, select the desired resource pack
Ready
Created by: WolfieTundra
Official Discord:

Direct Link: