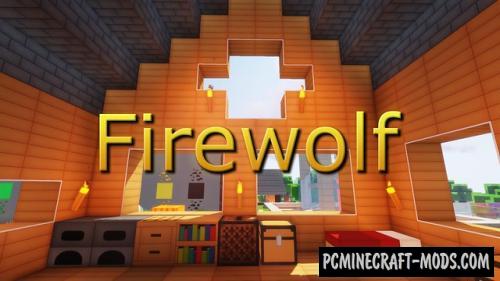 Firewolf 1.17.1-1.16.5 is an original resource pack that will increase the image quality to HD quality and also add a lot of 3D elements that depend directly on the Optifine functionality. It also has a fairly high resolution, which is 128 x 128 pixels, allowing you to enjoy every moment of the game world.

The pack uses clear and thoughtful textures that can make your game more vibrant and simple, but without changing the vanilla traditions of your favorite gameplay. This is a really well-made option, because it will surely appeal to all fans of classic survival.
For example, some parts of the block will receive additional 3D scripts to add mini-objects to the surface of the block. This will not only improve the resolution, but also add new layers that will complement the existing default developments from the Mojang team.
As you know, other projects also practice this kind of scripting technology, but Firewolf is designed to improve the vanilla elements and is currently the best in its field. Although, more recently, something similar was created, for example,
Classic 3D
, which has features to add more microparticles for tools and frequently used blocks, but this has a drawback related to block coverage, which will take a long time to fix, and it is also done in a fairly low resolution, which is 16x. So you may need it if you have a low-performance graphics card that is not able to produce a lot of FPS when working with 128x pixels.
Summing up, the player will be presented with very simplified options that are unremarkable from far away, but when you go to the middle or near distance, you will be able to notice about 10-15 improvements and innovations for each of the blocks. This will perfectly dilute the atmsofera of the player's stay in confined spaces, because the player most often builds small buildings in which he is very uncomfortable, so this is an excellent option to eliminate this default disadvantage.
Optifine Settings
You must also follow the graphics setup instructions below to activate all the features of Optifine. Otherwise, you will see the usual vanilla biomes.
Dynamic Lights: Fancy
Clear Water: On
Better Snow: On
Smooth Biomes: On
Fast Math: On
Dynamic Updates: On
Screenshots
Review
How to install Firewolf HD 3D
Install Optifine HD (Not necessary but desirable)
Download a Resource Pack
Unzip it and copy to C:\Users\User_Name\AppData\Roaming\.minecraft\resourcepacks
In the game settings, select the desired resource pack
Ready
Created by: Keitsu42
Downloads
Official link: