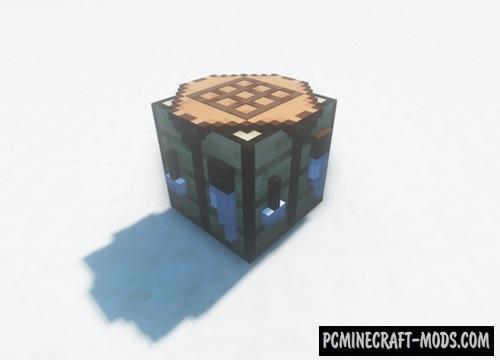 Here is another brand new 16×16 resource pack that will give your game the best and realistic 3D models of some blocks. Please note that Classic 3D 1.17.1-1.16.5 does not change vanilla textures, but only adds full 3D models to them!

But still, using this resource you will slightly diversify your usual gameplay and it will only become graphically richer. Now all the frequently used blocks will look even more beautiful and if you look very closely you will see a lot of new 3D elements. This is very nice if you use certain blocks and each time you consider something new.
Basically, it adds a bulge for frequently-viewed elements on the surface of the blocks, such as a three-dimensional grid on the workbench, a face shape for a pumpkin, micro ore particles on blocks of precious ore, three-dimensional 3D rails, three-dimensional lattice windows for doors and hatches, realistic 3D mushrooms and other vegetation, imitation of tree bark on blocks of "Tree Trunk", realistic torches and many other both decorative and logical improvements for blocks with tools.
Screenshots
How to install Classic 3D
Install Optifine HD (Not necessary but desirable)
Download Resource Pack
Unzip it and copy to C:\Users\User_Name\AppData\Roaming\.minecraft\resourcepacks
In the game settings, select the desired resource pack
Ready
Created by: RyanGar46