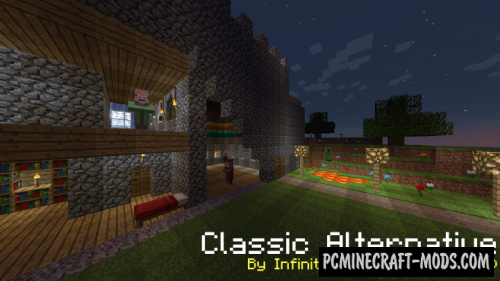 Popular among oldfags Classic Alternative 1.16.5-1.16.4 textures pack mainly contains mixed textures of the current version of the game, some elements of the beta version and even author's solutions. The author carefully followed the updates and it turns out that the developers removed a lot of content but this pack will return all the old gameplay features.

There are more than 80 removed textures of blocks and mobs, for example, you can get the old options cobblestone, gravel, bricks, double chests from the 1.2 alpha-beta version, or even flat chest that do not have a 3D model. As you know, the trees have been subjected to many changes and improvements, so the author added here the oldest options that will appeal to fans. Or for example, did you know that the First Endermen had green eyes? The developers changed this to purple in the 1.8 version. Before the aquatic update, the water had a very unrealistic and simple appearance, so now you have a great opportunity to return it as it was.
Mobs and animals had many alternative options in the alpha and beta versions, for example, ordinary villagers could turn into pig-man (pigified) or robed zombie pigmen.
The ore textures had a very simple look, for example, emeralds were very similar to diamonds, prismarine was similar to underwater cobblestone, and many other changes.
Screenshots
How to install Classic Alternative
Install Optifine HD (Not necessary but desirable)
Download Resource Pack
Unzip it and copy to C:\Users\User_Name\AppData\Roaming\.minecraft\resourcepacks
In the game settings, select the desired resource pack
Ready
Created by monsterfart77