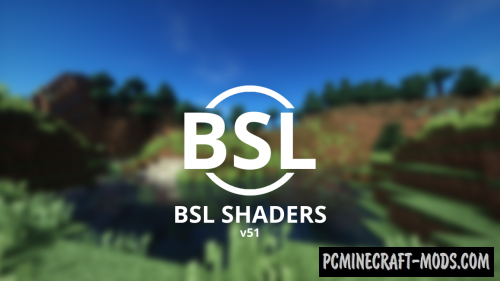 BSL 1.20.2-1.19.4 – represents realistic shaders that were created based on Chocapic13. It also contains functions for changing lighting using shadows. Now the colors in the game will become a little brighter and juicier, which has become available through the introduction of new animations for water and grass. Now the gameplay will look much more realistic.

Added AstraLex BSL_Edit version
Features
With each update, the author adds the most advanced scripts and techniques from the photo and video industry that allow you to manipulate the quality and effects of the image. CaptTatsu managed to combine more than 80 scripts that affect the image of the game gameplay. A lot of work has also been done to balance the impact of these scripts on the overall picture, which means that the player will get incredible impressions from staying on each of the game levels. Additionally, as you know, these processes for improving the visual component take up very huge resources for your video chips, which can process and spend a lot of resources on outdated scripts. In order to fix or even rewrite the codes, a team of 10 developers applied all their knowledge and ideas to optimize as much as possible both individually and cluster work of graphic scripts for any of the video cards (Ryzen or NVIDIA).
Among the main innovations that are currently not used in other shaders, the following can be distinguished:
Scripts that create an additional visual atmosphere that creates a thicker fog in the early or late hours of the day or a more transparent fog that can be generated closer to lunch;
A feature of the interaction of microparticles of fog with nearby objects that is perfectly noticeable for RTX technologies;
More than 17 technologies to improve shadows, reflections and variations of daytime or moonlight. This makes the visualization of each of the locations hyper-realistic when using even the lowest quality texture packs;
8 effects for generating microparticles in some of the game biomes and generating effects/sprites during interaction with blocks. This means that in certain places, microparticles that complement the atmosphere will be generated for the player, which randomly appear and disappear. This is something like flying sparks from a fire or waves of fog having wave features. It also has functions for particles that appear during interaction with objects, which means that after destruction or interaction with blocks, the player will see higher-quality (Non-textural) pixels flying out of the block during its destruction;
Water, sky and clouds have at their disposal a whole 9 scripts that replace ordinary textural objects with random script options. Now it will get a realistic reflection of rays from water, realistic 3D physics for creating water humming and waves, the ability to interact with fog and microparticles, which adds realism and much more.
This contains a huge number of microscripts for the game world that only experts can distinguish, but we will try to tell you more about them and also divide them into some subcategories. Next, we have listed each of the scripts used in this shader pack. This contains an abbreviated name and a small description of the features of each of them.
BSL Global Ambient Settings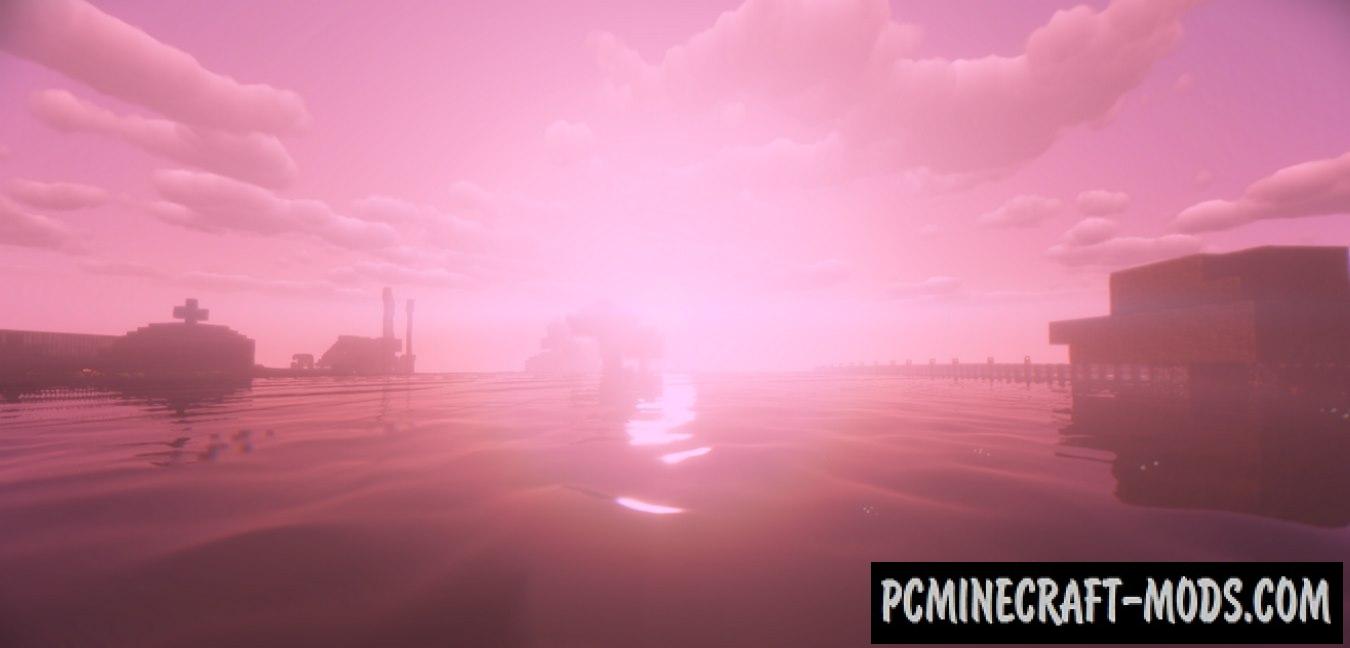 Ambient Occlusion
Adds soft shadows around the surface contact or intersection
Adjust the quality of the surrounding occlusion
Ability to adjust the strength of external occlusion
Adjust the thickness of the environment.
BSL New Shadows, Light and Refraction Scripts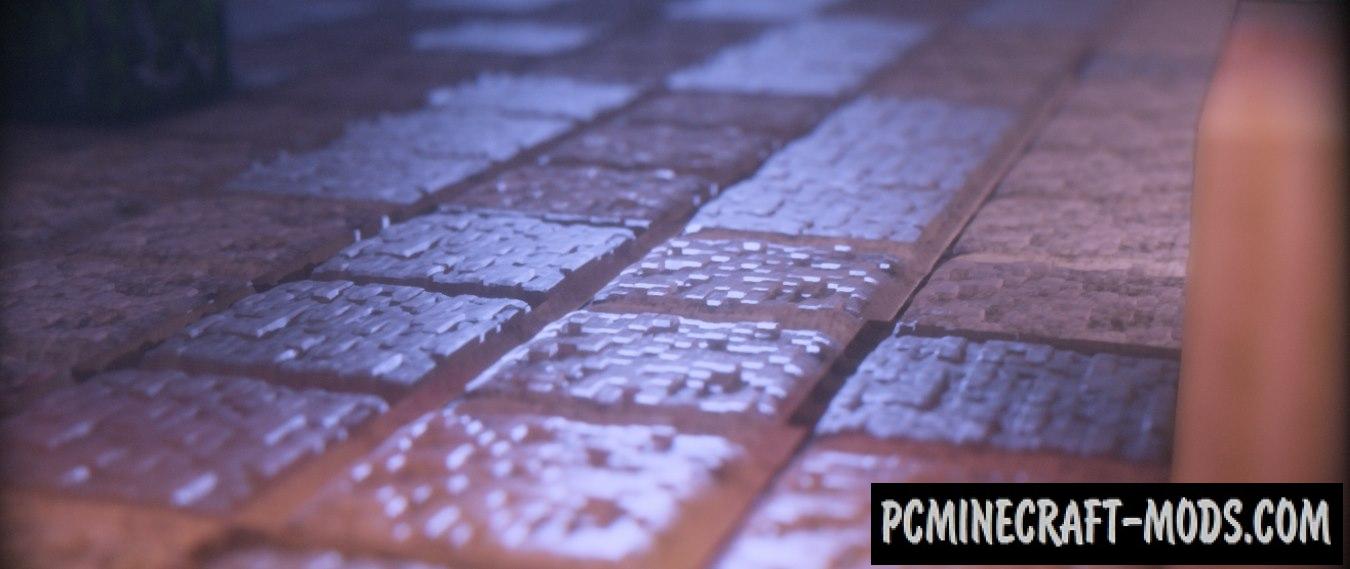 Shading Strength – changes the shading darkness on surfaces. Affects everywhere including caves
Light Shaft – Adds volumetric rays from sun / moon
Desaturation – Reduces saturation while adding some tint in darker areas
Desaturation Factor – Adjusts the maximum amount of desaturation applied
Reflection Translucent – Allows reflection to be rendered on translucent surfaces, such as stained glass, ice, slime blocks, and more.
Advanced Materials – Enables the use of specular and normal mapping which allows for more detail on various things. This option requires a resource pack which contains specular and/or normal maps, disable this if you don't use one
Material Format – Determines the specular and normal map format used by the resourcepack. Texture artists usually tell which format is used in their resourcepack, using the wrong format may give weird results
Reflection Rain – Allows surfaces to be wet while raining
Adjusts Speed of puddles
Reflection Rough – Allows surfaces with lower smoothness to render blurry reflections
Self Shadow – Allows a surface to cast shadow to itself using heightmap
Self Shadow Angle – Adjusts the self shadowing angle, higher value allows the shadow to travel further
Parallax Quality – Adjusts the quality of parallax occlusion mapping and self shadows
Parallax Distance – Adjusts how far parallax occlusion mapping and self shadows can be rendered
Directional Light-map – Adds normal mapping to vanilla lighting. Lightmap may glitch with this effect enabled
Shadow Color – Enables tinted shadow from translucents. Used for colored volumetric light shafts. Slightly higher performance cost when using shadow filtering
Shadow Backface Culling – This causes light to pass through terrain as side faces on chunks aren't rendered even if the neighboring chunk on that side isn't rendered either.
BSL Additional Microparticles and Effects Scripts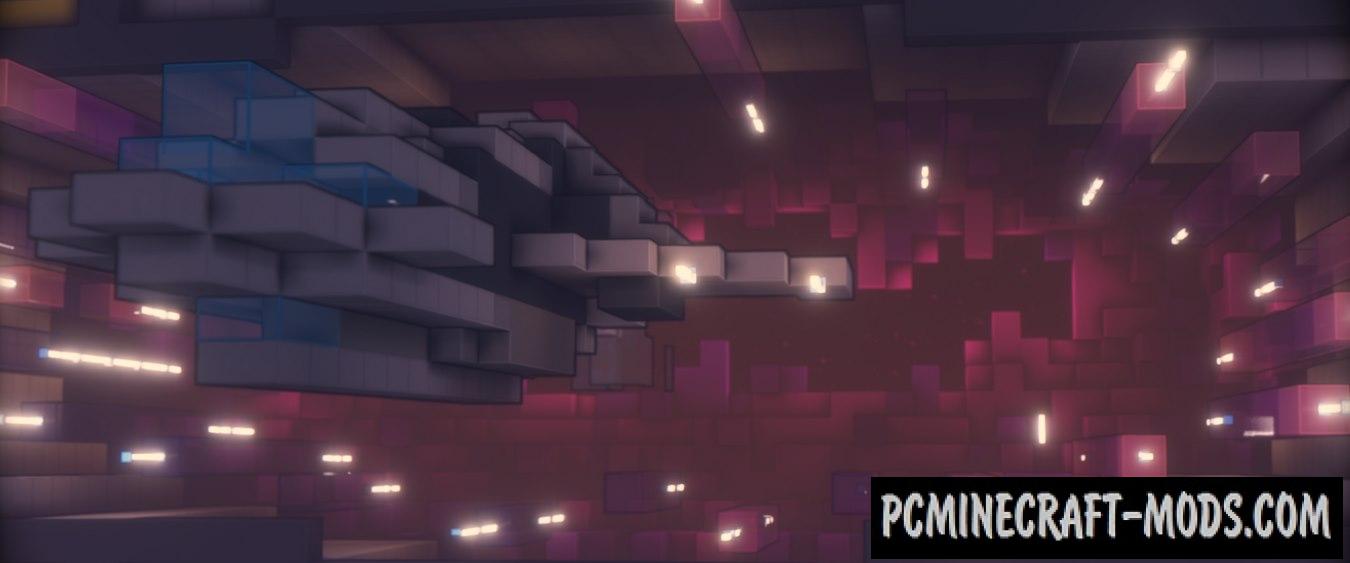 DOF (Depth Of Field) – Blurs the objects that the player isn't looking at to simulate focusing
Nether DOF Strength – Adjusts the strength of the DOF in the Nether World
Chromatic Aberration – Optical aberration that produces different focus depending on the wavelength. We then observe a blurry image with iridescent contours
AA (Anti-aliasing) – Enables anti-aliasing. FXAA: Faster, works properly with screenshot size. TAA: Slower, captures subpixel detail and improves some effects
Vibrance – Adjusts saturation of less saturated colors, well saturated colors are less affected
Spider Eyes – Choose the color of the eyes for spider, enderman and dragon
Flash Victime – Ensures perfect visibility of mobs in the dark once a weapon is in hand
Detecteur Cave – Allows you to see caves, mineshaft, etc. Use a block of dirt in the cellars to see through the walls.
BSL Realistic Water, Sky and Clouds Scripts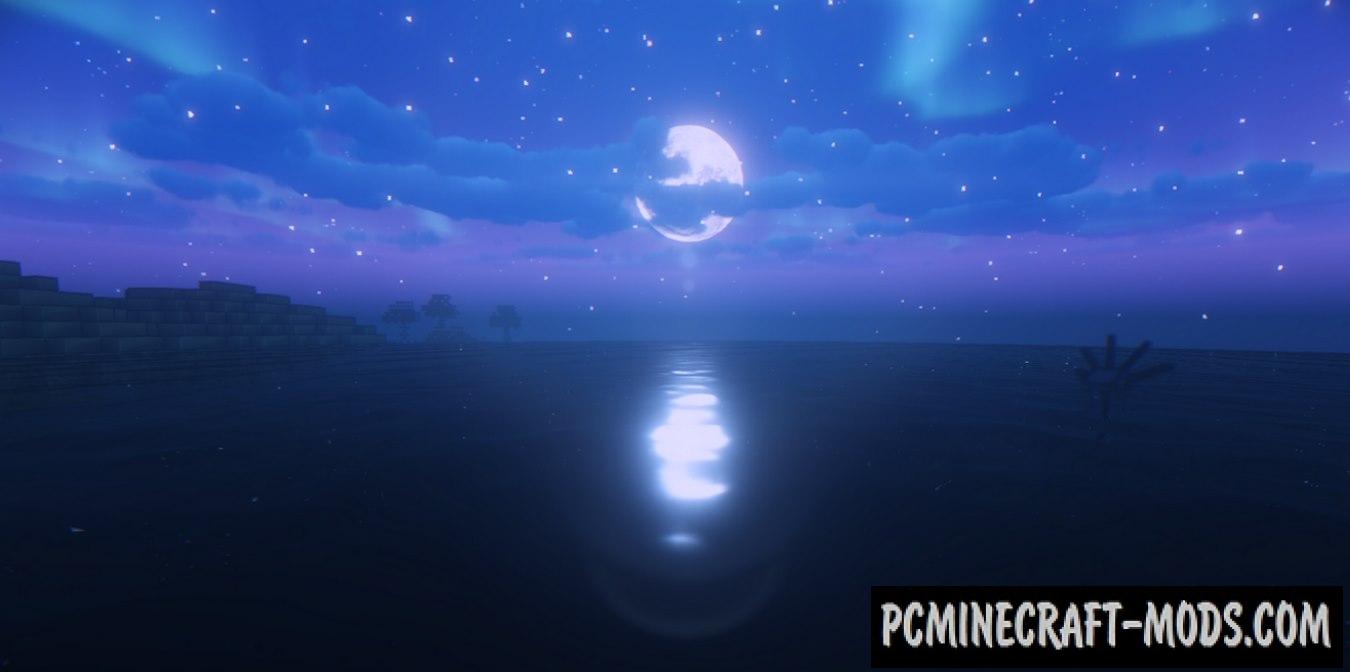 Water Mode – Determine whether vanilla water texture should be used. Default: shader's flat water color, no texture. Vanilla: vanilla texture
Water Light shaft Strength
Mouvement Eau – Used for Water refraction when you eyes is in water
Tinted Vanilla – vanilla texture with shader's water color
Stars Light Intensity – Adjust Intensity of Stars Lighting. Too high a value may adversely affect the reflection of stars on the water if Stars reflection option is enabled
Horizon Distance – Adjusts sky gradient. Nearer horizon gives slightly brighter sky, further horizon gives slightly darker sky
Cloud Thickness – Adjusts cloud thickness, higher thickness makes artifacts more visible
Soft Particles – Allows the particle to merge smoothly with the surrounding water environment
Particles Visibility – Improves visibility in water by reducing the opacity of very close particles.
BSL Screenshots
Review
How to install CaptTatsu's BSL Shaders
Download and install Forge
Make sure that you have the "Java" application installed.
Download the "Zip" archive from our website.
Inside this is a "Jar" mod. It can also contain old and new builds.
Select the latest version of the "Jar" file that matches the game version.
Please note that some releases may contain bugs, incompatibilities with other modifications, and in some cases may cause conflicts within Forge or Fabric. You can try installing the previous build to fix this.
Move the "Jar" file to the "Mods" folder.
This folder is located at the following path:

Mac OS X:
/Users/Your Profile Name/Library/Application Support/minecraft/
Quick way to get there: Click on the desktop and then press the combination of "Command+Shift+G" keys at the same time.
Type ~/Library and press the "Enter" key.
Open the Application Support folder and then Minecraft

Windows 11, 10, 8, 7:
C:\Users\Your Profile Name\AppData\Roaming\.minecraft\
Quick way to get there: Press the "Windows" key and the "R" key at the same time.
Type %appdata% and press "Enter" key or click OK.

The "Mods" folder is created automatically when you install Forge or Fabric, but you can always create it manually.
Open the launcher and select the desired modloader.
Launch the game and enjoy the new gameplay.
Ready!
Credits
Created by: Capttatsu, LexBoosT

BSL Downloads