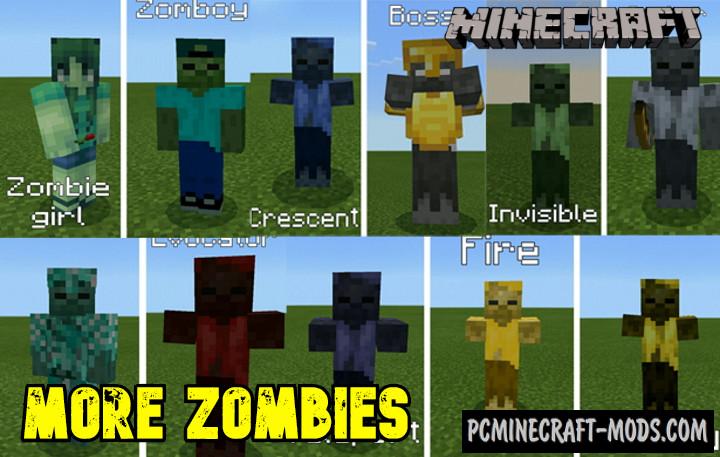 The More Zombies 1.17.0-1.16.221 addon is suitable for those who want to increase the number of types of zombies in Minecraft Bedrock, as well as change their behavior. After installing this, you will get 12 new zombies with different types of attack, not like normal zombies. It will also fix the zombie horse's spawn at night, making it more natural (throughout the game world).
Features
Let's look at them in more detail: Zombie boy and Zombie Lady we are neutral and only attack if you hit them first
Adds 12 new zombies with unique behavior and characteristics
Zombie Archer can attack the player from a distance using a bow;
Crescent Zombie increases in size and characteristics by 2 times if approaching the target;
Colorful Zombie when he sees the target begins to change the color of the body and the type of attack;
Zombie Evocator can tame wolves, making them red and hostile to the player, can summon a small zombies and teleport them;
Invisible Zombie in battle becomes invisible, returns to normal after a while or after winning;
Explosive zombie can explode or engage in hand to hand combat when approaching and activate the creepers;
Zombie Teleport attacks with poison and is able to teleport;
Fire zombie attacks with poison, leaving a trail of fire.
Screenshots
Also, if a lightning hit the hostile zombie then will spawn a new zombie boss. To fight against the boss is not easy, because he has 300 HP, the ability to attack from a distance and the ability to call other zombies. They can also be spawned from eggs.
How to install More Zombies
Download zip archive with addon inside
Unzip it and open the addon file using the ES Explorer
This should start the import
Open world settings
Select new Behavior Pack and Resource Pack
Enable Experimental gameplay (if necessary)