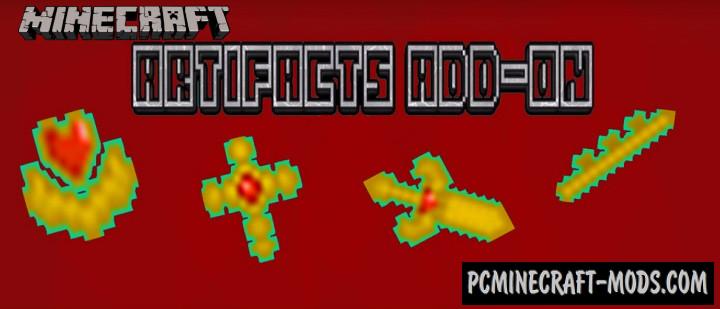 If you are tired of the usual emeralds, diamonds and gold then urgently try the Artifacts 1.17.0-1.16.221 mod. It adds to the Minecraft PE a 4 artifacts to the game, each with its own abilities. All features are unique to each of the artifact. Try them all.
To activate the artifacts just keep it in your hotbar. In survival mode, it can be purchased through the structure block or found in the dungeons (Jungle Temple and Desert Temple)
In creative mode, you can get them with the command (function artifacts).
Features
Sacred Heart – increases health and regeneration
Sacred Dagger – deals 10 damage and has greater durability
Sacred Cross – the coolest thing and when you take it in the hands, all the enemies within a radius of 10 blocks will be struck by lightning
Sacred Flute – when you pick it up you automatically get the Jump Boost and the Speed Boost, but the weather changes to stormy or rainy
Screenshots
How to install Artifacts
Download zip archive with addon inside
Unzip it and open the addon file using the ES Explorer
This should start the import
Open world settings
Select new Behavior Pack and Resource Pack
Enable Experimental gameplay (if necessary)