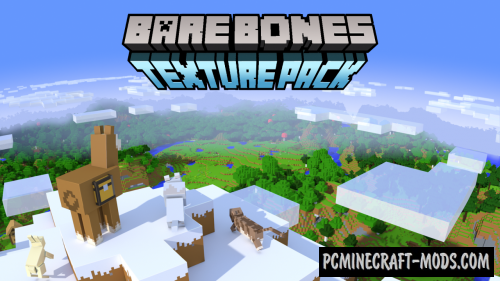 A resource pack called Bare Bones 1.16.5-1.16.4 will be able to saturate the game as much as possible with more simplified and bright textures, while retaining the vanilla style. Together with these resources, you will be able to look at your favorite cubic and long-familiar world in a completely different way!

Join the game with a slightly increased level of satisfaction along with a wonderful package of bare bones! The style of this pack is very unusual, because it has a very simple combination of just a few colors, but the painstaking work on the textures turns the blocks into very high-quality graphic components. This is great for both simple survival and use while creating or shooting beautiful screensavers or videos.
A smoother drawing style will replace vanilla adventures into something better which has updated gameplay with a bunch of new features. Each player will be able to notice more beautiful and interesting places that will become a springboard for their survival. The author also tried to add more colorful elements for some types of blocks and updated animal skins with monsters, so it's a great option to make the game lighter than it was before.
Screenshots
Review
How to install Bare Bones
Install Optifine HD (Not necessary but desirable)
Download Resource Pack
Unzip it and copy to C:\Users\User_Name\AppData\Roaming\.minecraft\resourcepacks
In the game settings, select the desired resource pack
Ready