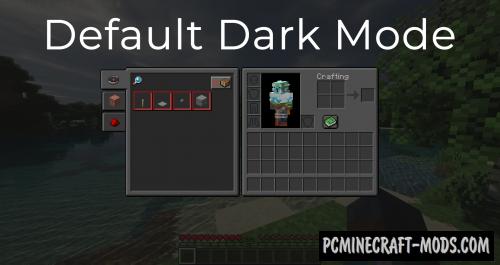 Default Dark Mode 1.17.1-1.16.5 pack will allow you to change the appearance of the game screen to a darker theme one by simply setting the dark mode GUI and HUD options. The advantage of these textures is that the fatigue of your eyes in the dark will be slightly less than usual.

As you know, playing your favorite game at night is very annoying when very light elements appear on the big screen, such as the world loading logo, the light inventory GUI, the creative menu and other gameplay elements that suddenly illuminate both your room and transmit too much light to your eyes. This option has been designed specifically for the player to have more fun playing without the lights on in their room. So now you will notice less sharp light frames that will prevent eye fatigue.
The most important feature of this pack is that all of its textures are based on the original theme, making it easy for you to get used to the new, more user-friendly nightly interface. In addition, the author redrawn a lot of icons of items, because by default they have a white outline that is incompatible with the black HUD and GUI, so now it is beautifully redrawn to a black outline, and the icons themselves have received more light pixels. Also, for some icons, the author had to completely change their design, for example, this is done when it is not possible to adjust the correct outline. In any case, this should solve the problem of too light elements of the game.
Screenshots
How to install Default Dark Mode
Install Optifine HD (Not necessary but desirable)
Download Resource Pack
Unzip it and copy to C:\Users\User_Name\AppData\Roaming\.minecraft\resourcepacks
In the game settings, select the desired resource pack
Ready
Created by: nebuIr